IAAPA Expo 2022: What's New in Themed Entertainment?
Amusement Park enthusiasts might be saving for a summer vacation to ride the latest attractions, but the industry insiders provided a sneak peek into the next hospitality and tourism revolutionary rides and games. IAAPA Expo 2022 at the Orange County Expo Center wrapped up in November, and more than 1,000 attendees saw what the future of hospitality and tourism looks like.
Being only the second IAAPA Expo year since the pandemic, there was a 25% increase in attendance compared to the previous year. Since the pandemic, the IAAPA Expo has become an important place for industry members to connect and speak with other industry experts while having some fun seeing what the tourism and hospitality industry has innovated and what to look forward to in the entertainment industry in the coming years.
A big innovation many companies have been working on is VR games and amusement rides, which is growing rapidly and with success. According to Omnico, 42% of Americans want to see VR be a part of amusement park rides. Actor Tom Schanley, from top shows Hawaii Five-O & NCIS: Hawaii, shares his thoughts on the different VR games, he was able to test while in IAAPA Expo 2022 attendance.
Tom's Thoughts
"There was a lot of cool untethered VR shooting games, or a few. I played one, it was a team battle sequence with two on a team. I'm sure in a bigger playing arena, they could have had as many as they want. The avatars, your picture is your avatar and it looked pretty good, you know? Your mask or body armor, you were color coordinated to your teammate, obviously teams of two.
The arena itself was various levels of walls you could move around through, jump over to shoot your opponent. So, it was a really active game, which was great. It wasn't just standing there and moving and shooting, you could actually get your heart rate up if you really wanted to. Also, in the middle of the battle, if you ran out of ammo, you would have these green circular sections in either corner you had to make your way to without getting shot. You recharged, then you got back in the game.
The whole thing is obviously a first-person shooter perspective. And yeah, it was a lot of fun. You could do that in a bigger, with a bunch of people, it would be really impressive. So yeah, well done."
Actor, Tom Schanley, attended the Expo and described his favorite moments from his time at the IAAPA Expo including joining the Marvel Universe in his very own comic with Groot!
"This was also really cool for me, technology-wise, because they have all this augmented reality you could do for filters for your phone. So maybe it's not cutting-edge technology, but when Marvel can turn you into a comic, I think that's pretty cool. So that's me and Groot. That's me just in case.
But yeah, it's pretty fun to be part of the Marvel universe."
Latest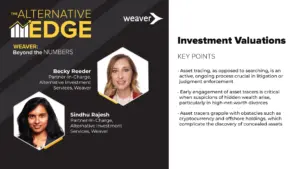 December 4, 2023
In this episode of The Alternative Edge, a Weaver: Beyond the Numbers Podcast, host Becky Reeder, an audit partner and co-leader of the alternative investments practice at Weaver, engages with Sindhu Rajesh, an Alternative Investment Services Partner with Weaver. They unpack the complexities of venture fund valuations, offering critical insights into industry dynamics and best […]
Read More