Looking forward… As we remember our past with WRAAA
For more than 40 years, the Western Reserve Area Agency on Aging (WRAAA) has been a conduit of hope for Ohio's aging population, providing assistance that helps older adults maintain their health and wellbeing and remain in their homes.  Established in 1976 following the passing of the OAA Comprehensive Services Amendments that created the Area Agencies on Aging (AAA), the WRAAA has been honored to serve the elderly and disabled populations through four decades of monumental change.
Through the years, WRAAA has faced many challenges as they strived to implement structure for a variety of federal and state aging service programs aimed at providing comprehensive services for older adults. WRAAA advocated for independence and dignity by allowing eligible adults to remain in their home with the establishment of their flagship program PASSPORT in the 80s.  They ably navigated the dramatic increase of AAA responsibilities with the passage of the American Disabilities Act in 1990, allowing for WRAAA's expansion to other counties. In the previous decade, WRAAA implemented Ohio's first Aging & Disability Resource Consortium (ADRC) and in the present decade, Affordable Care Act legislation, reforming Medicare and Medicaid services has permitted WRAAA to expand their services even further.Through it all, WRAAA has remained committed to its purpose and mission to provide choices for the aging and disabled.
A non-profit corporation organized and designated by the State of Ohio to be the planning, coordinating, and administrative agency for federal and state aging programs, WRAAA's numerous humanitarian initiatives and innovative programs save millions of taxpayer dollars each year. Further, as an economic engine for the local aging services network and long-term care industry, WRAAA services and support help to bring millions of state and federal dollars into the region while providing employment sourcing for local aging professionals.
The "hub" for diverse age and disability-related services, WRAAA continues to adapt to meet current and emerging challenges, remaining a valuable community resource as the definition of age continues to evolve. Learn more about WRAAA's vast array of services and their new facility here.
Download full PDF information here.
Latest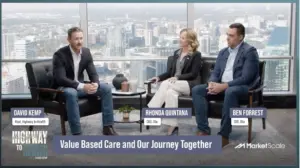 December 7, 2023
As of recent times, the healthcare industry has been progressively shifting towards value-based care, a model that emphasizes patient outcomes over the quantity of services delivered. This transition represents a significant shift that promises to enhance patient experiences and outcomes while controlling healthcare costs. With a growing emphasis on this approach, especially over the […]
Read More