How a Small Business Went from Niagara Falls to a Presidential Inauguration
Niagara Falls is known as, "The Honeymoon Capital of the World," and one local small business owner incorporates that idea into her company name: Niagara's Honeymoon Sweets. Mary Ann Hess lives and works in Niagara Falls, primarily as a hair stylist– she owns her own salon– but also as the owner and chocolatier of Niagara's Honeymoon Sweets, LLC, which has retail space on Porter Road in "The Falls," as it's known around Western New York.
Hess started her chocolate business more than a dozen years ago to help pay for her grandson's medical bills– he has Crohn's disease, a chronic inflammatory bowel disease that affects the lining of the digestive tract. As is the case with many small business owners in the food industry, her desserts became so popular among friends that she was encouraged to take them to the open market.
She has connected with Buffalo-based Delaware North, a global food service and hospitality industry leader. This partnership allows her goods to be transported to events far outside the immediate region.
Her chocolates are enjoyed at various events like weddings, baby showers, conventions, and eventually made it to the second inauguration of President Barack Obama in 2013.
In Western New York, her chocolates have been purchased by doctors, dentists and other professionals. Though many of her customers come from Western New York, she also provides for events including the Oscars, the Emmy Awards, the Golden Globes, the NFL, Miss USA, and the Kentucky Derby. She has been dubbed, "The First Lady of Chocolate" and finds herself meeting several celebrities each year at red carpet events.
To manage the business, Hess uses Microsoft Office and the Adobe suite. Both programs are utilized to make invoices, brochures, ads, and for setting up pictures for edible chocolates.
Latest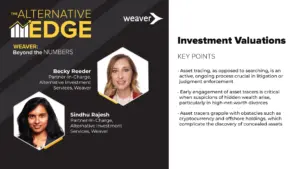 December 4, 2023
In this episode of The Alternative Edge, a Weaver: Beyond the Numbers Podcast, host Becky Reeder, an audit partner and co-leader of the alternative investments practice at Weaver, engages with Sindhu Rajesh, an Alternative Investment Services Partner with Weaver. They unpack the complexities of venture fund valuations, offering critical insights into industry dynamics and best […]
Read More