Staying Ready to be Ready For You to Travel: Say Yes To Travel
It's no question that the airline industry has been hit hard due to the corona virus pandemic. With the industry coming to a near standstill, what is it like for those still working? Host Sarah Dandashy got to chat with Captain Ryan Hunter, a pilot with United Airlines. Having been a pilot with the airlines for over 15 years, he knows all the ins and outs of the industry. He shared with us some insight on what it is like to work as a pilot right now.
"I've never seen anything like this. But we are going to get through it. I am just trying to remain positive and supportive of everyone in the travel industry right now."
Airlines within the US are averaging passenger loads operating at 97% down. "On planes 1that can carry 150-190 seats, I'm seeing them only carry 1-30 people." These numbers are staggering. Without a vaccine or an end in sight, it is really tough planning for the future.
"Being a Captain and being a leader, I have to promote positivity. We will bounce back stronger… This is a tough reality. There are so many people losing jobs. It's about everybody. It's hard for me to see."
The biggest changes that he has seen are airports that are just empty. What used to be an exciting, bustling hub connecting people, airports are now ghost towns.
He hopes that by the summer, people will want to get back to "normal." "I believe humans want to travel, they want to see, they want to make money.
As far as getting back to the numbers we were operating at before the pandemic, realistically it might take 18 to 24 months.
Naturally, there will be more regulations moving forward. What those actual changes will be has yet to be determined, but it is fair to hope that most people will be a little more mindful of their behaviors on plane.
This current periods feels more like a pause. It almost doesn't seem real. But Captain Hunter remains a positive outlook. Hopefully with this time away from our normal routines, experiences will be a priority for travelers. "We will travel again."

Latest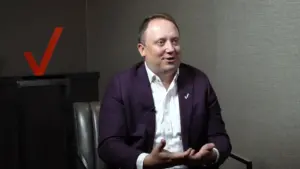 December 1, 2023
For a special episode of The Verizon Partner Network the focus was on the considerable role of partnerships in the Verizon Partner Program and the leaders shared their perspectives on the initiative. Their conversation brought about a lot of thought-providing context on the evolving telecommunications landscape. In today's era, collaboration and integration are key to […]
Read More