The Growing Market of Solutions Supporting Hospitality's Comeback
Driven by consumer desires for new experiences, innovative technologies and environmental impacts – travel is changing. Host Sarah Dandashy explores the technologies and logistics that power travel and the brands that build unforgettable experiences.
On this episode of Say Yes To Travel, I talk to Dr. Geoff Trenkle and Lauren Trenkle, PA MPH. I have been interviewing professionals from around the world who have been adapting to stay afloat during the pandemic. This episode is unique because I am talking to folks not directly involved in the hospitality industry, but their work directly impacts the industry.
The duo of Trenkles created Total Testing Solutions, which helps individuals, businesses and families, test for COVID-19. They also help folks adapt to the safety measures out there. This allows those in the industry to test themselves, staff and make sure they get back to doing the work they do in a healthy manner.
The Trenkles started TTS in Los Angeles. But, the need for their testing solutions quickly grew to six locations in California. The inspiration for the idea came during the pandemic. In their practice, things slowed down significantly and then came to a complete halt. They transitioned to telemedicine, but they noticed that essential workers continued to go to work.
They started calling labs to see if they could get swabs to help test. They received five.
"So, it evolved into us trying to network to get any type of test at this point," Lauren said. They eventually stumbled upon a connection at Rutgers University where they could do saliva tests. They paid for the tests out of pocket because that's all they could do to be a testing provider for individuals.
They didn't anticipate this growing into what it did, according to Geoff. It was meant to be a stop-gap to help essential workers around them.
"The reality of how big it really became didn't really hit us until the big wave in June came about," Lauren said, "up until then, it was a steady wave we could really manage."
Once the big waves hit, they struggled because they couldn't get people in fast enough.
"At one point, we were getting 14,000 calls a day, and we didn't have the bandwidth to handle that phone call rate," Geoff said.
That's when they realized they had something big on their hands, as more people would be getting tested, especially as the world started to open back up.
Listen to learn more about how Total Testing Solutions is helping essential workers in the travel industry get COVID-19 testing.
Follow us on social media for the latest updates in B2B!
Twitter – @MarketScale
Facebook – facebook.com/marketscale
LinkedIn – linkedin.com/company/marketscale
Latest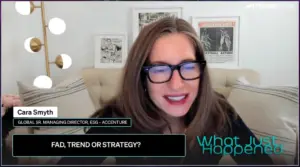 November 30, 2023
The world is in an era where sustainability and responsible retail business practices are increasingly crucial. For the latest episode of "What Just Happened," host Christine Russo further explored the hows and whys of this pressing issue by interviewing Cara Smyth, Global Senior Managing Director for ESG and Responsible Retail at Accenture, and Chair […]
Read More