What Hotels Are Doing to Stay Fresh in 2019
Hospitality is one of the most innovative industries in modern day. The sector has seen gradual but consistent growth in the last decade, and that trend will likely continue. Since supply is high, so is competition, which drives much of the evolution currently taking place. The new trends manifest themselves in various areas, but two have the opportunity to be the winners of 2019.
The hotel lobby is less lobby and more living room these days, offering both privacy and engagement with others, or the best of both worlds. Operating as the heart of the hotel, the lobby is a place to not only connect gadgets, but also connect to other guests or those with whom people are traveling with. Interior design is trending toward homey but useful, and the environment feels more open but with plenty of hideaway areas. Eco-friendly potted plants in lieu of permanent dividers are often used to create these nooks to allow for intimacy in the midst of utility. These personalized environments usually also cater to the desire to explore, in essence revolutionizing the lobbies of the past.
While home-away-from-home drives the living room-lobby movement, the opposite appears to have birthed this next trend. It seems pointless to travel without soaking up some local color. Even when visiting a city for business, a little pleasure can rejuvenate the business traveler. That is why hotels of today are integrating the guest experience with the local culture. The thinking behind this innovation is in part that that the local touch can create a unique ambiance for guests, regardless of their purpose for the hotel stay. The hotel is becoming a pivotal piece of an overall experience for its guests, offering spa services and lending gadgets to guests in need. Many new hotels are partnering with local businesses and artists to construct a miniature version of the city and all its character.
Hotels will likely continue to have slow but steady growth on paper, but the industry is evolving at lightning speed when it comes to design and amenities. With millennials as the most frequent visitors, experience is everything for the hotel who wants to succeed. And while technology is central to much of the modern hotel upgrades, the driving force is less tech-oriented and more personalized for some of today's trends.
For the latest news, videos, and podcasts in the Hospitality Industry, be sure to subscribe to our industry publication.
Follow us on social media for the latest updates in B2B!
Twitter – @HospitalityMKSL
Facebook – facebook.com/marketscale
LinkedIn – linkedin.com/company/marketscale
Latest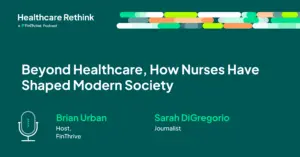 December 4, 2023
Nurses Have Shaped Modern Society beyond healthcare to stand as pivotal figures that transcend their traditional roles, influencing the broader spectrum of societal change. Healthcare Rethink, a FinThrive podcast hosted by Brian Urban, welcomes Sarah DiGregorio, Journalist, Author, and Speake,r to discuss her second book, "Taking Care: The Story of Nursing and Its Power […]
Read More