What is the Role of Today's Hotels?
In many industries the customer base is changing drastically. Today's consumers care about the overall experience more than the older generation did, which is leading some industries, particularly hospitality, to seriously rethink their business models.
In the past, a clean room, decent water pressure, and an edible breakfast were good enough for many hotel patrons. But not so today. Competing with AirBnB and a changing consumer culture, hotels are being forced to innovate and rethink what they do.
One success story is a small hotel chain that has taken to completely reinventing what it means to be a hotel. The citizenM chain was started in Amsterdam, The Netherlands, and is a completely radical departure from most other models. It was designed to be egalitarian and utilitarian by removing all the usual annoyances that make the hotel experience a drag.
All of the hotel's rooms are exactly the same in every way; size, furnishings, and price. The experience is paired down, but not cheaply; exactly the opposite. It is everything a guest needs, done perfectly, with no frills. There is no room service or restaurant; instead, hot food and drink can be accessed 24/7 in a canteen style area.
There is no bar or concierge desk, instead, the lobby is designed to feel like a living room; perfect for guests who need a quiet space to relax, but without getting in the way when he or she wants to get to their room. The check-in kiosks get guests through the whole process in under 60 seconds. 
While this may sound impersonal, it is not. The rooms are cozy, thoughtful, and high-quality. Tablets control the free entertainment system and the fun, infinitely adjustable RBG lighting, while the bathroom is a space-age smoked glass pod with a truly luxurious shower.  
Other hotels are focusing less on removing traditional annoyances of the hotel process, but rather making the hotel more of a destination, and by improving on their food and entertainment experiences.
Meanwhile, some boutique hotels offer unique decor to transport visitors to another time and place, for example Bay Area Hotel Emblem takes visitors back to San Francisco's most iconic era— beatnik. Other hotels try to increase their popularity as a social spot with better bars and cafes, or lobby games like pool and darts.
At the end of the day, today's customers care about the overall experience, and they want to get their money's worth. It is up to hotels to create these experiences, whether through dining, entertainment, or location based attractions.
Latest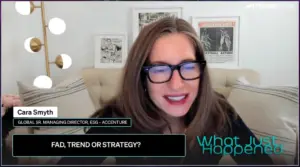 November 30, 2023
The world is in an era where sustainability and responsible retail business practices are increasingly crucial. For the latest episode of "What Just Happened," host Christine Russo further explored the hows and whys of this pressing issue by interviewing Cara Smyth, Global Senior Managing Director for ESG and Responsible Retail at Accenture, and Chair […]
Read More