An IoT Guide to NRF 2019
Retail's Big Show, the National Retail Federation's annual retail conference and expo is opening its doors next week, January 13-15 in New York City, and one of the hottest technologies shaking up retail will be an important part of this year's event–IoT.
The Internet of Things has revolutionized modern retail—streamlining every facet of the industry and broadening marketing and communication opportunities for business owners. This year's 'Big Show' will have an impressive presence of companies innovating with this technology, along with an exciting lineup featuring renowned CEOs, analysts, and experts. As the world's largest expo of its kind, IoT solutions will be sure to attract plenty of attention.
Here are just a few of those companies helping businesses improve both sides of the retail experience.
Nedap
Nedap is a Dutch multinational technology company that offers tech solutions for several industries. In retail, it specializes in RFID devices– specifically targeting loss prevention, stock management, and source tagging. Last year, fast-fashion giant H&M extended its multi-year contract with the company for the supply and installation of its RFID devices. The company sets a high standard for efficacy and efficiency. By integrating source tagging with either RFID, RF, or hard tags into a company's supply chain, items are protected and store-ready once they hit the shelves.
Nedap is also sure to showcase its overhead EAS system, iD Top. The device offers complete RFID solutions for stores, while eliminating the need for obstructive barriers and eyesore installations. Rather, its sleek design provides stores with friendlier atmospheres and modern looks without compromising on security, as is displayed at an Adidas store in Madrid.
Smartrac
Another Dutch company sure to make a splash at this year's Big Show is Smartrac. Smartrac puts its focus on scalable solutions that enable businesses to digitize products, complement product offerings with digital services and connect to the Internet of Things. The company's booth this year is set to be a highlight for those lucky enough to attend. Smartrac will host live demos giving attendees a helpful "how-to" involving RFID chips and integrating product data to ease and improve inventory issues and analytics.
Along with the live demos, the company will have products on display covering multi-layer technologies and solutions–providing highly secure product authenticity and safeguarding a business's products.
IoT One
IoT One, a Shanghai-based company, is a must-visit vendor at this year's event. IoT One has an impressive list of suppliers from IBM to Scope AR, which provides solutions for countless industries. In retail, IoT One specializes in both geofencing and indoor positioning systems (IPS). For geofencing, the technology uses either GPS or RFID technology to track a product's location in-store and allows administrators to set up "triggers" if a product enters or crosses the geofence line. This gives a retailer real-time valuable trends and information to use for marketing and improving customer acquisition.
Indoor Positioning Systems also provide shop owners with crucial data analytics that paint a clearer picture of trends in the store.
In a case study for a Taiwanese clothing store, IoT One's client not only gathered important marketing data, but they also experienced an improvement in customer, operational, and staff efficiencies. Without much insight into their latest innovations, they are undoubtedly a booth worth looking out for.
For the latest news, videos, and podcasts in the IoT Industry, be sure to subscribe to our industry publication.
Follow us on social media for the latest updates in B2B!
Twitter – @IOTMKSL
Facebook – facebook.com/marketscale
LinkedIn – linkedin.com/company/marketscale
Latest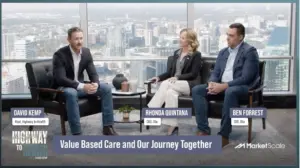 December 7, 2023
As of recent times, the healthcare industry has been progressively shifting towards value-based care, a model that emphasizes patient outcomes over the quantity of services delivered. This transition represents a significant shift that promises to enhance patient experiences and outcomes while controlling healthcare costs. With a growing emphasis on this approach, especially over the […]
Read More