Building Transparency into Cybersecurity
In this weeks episode of The Trust Revolution, CEO of WhiteFox Defense, a global leader in the drone airspace industry, Luke Fox interviews Brendan Groves. Brendan Groves is the Head of Regulatory and Policy Affairs at Skydio, an American company dedicated to making drones.  Before joining Skydio, Brendan held senior positions in the federal government.  He most recently served as Associate Deputy Attorney General in the U.S. Department of Justice (DOJ).  In that role, he managed the Department's national security policy portfolio, handling a wide range of issues, including counterintelligence, counterterrorism, intelligence, reviews of foreign investments, cyber operations, and export controls.
In this week's episode of The Trust Revolution, Brendan and Luke explore the ever-growing drone technology industry. Brendan shares how drones have both posed a threat to national security and has also done wonders to help people.
During Brendan's time working with the DOJ, he addressed the importance of storytelling. No matter what situation is, there is power is telling the story of constantly changing drone threats whether it is, "The criminal threats, drones used to commit crimes… drones used to commit acts of war, drop explosive devices and drop intelligence surveillance." Drones are "computers in the sky" and enable hackers to near servers of interest. It is important that private companies and government officials understand the threat of designing drone technology.
Brendan professionally has worked in the private and public sector and has brought equal experience to create acts of compassion. He encourages start-up mentality when looking to help others and build up a community. "Programs that have been most successful partner with the community instead of offering solutions for the community." Engineering solutions that are building with members of a community is going to be the most sustainable.
Brendan teaches Cybersecurity Law and Policy at George Washington University. He educates his students about the threat of cybersecurity and gives his students the opportunity to come up with solutions for different threats. "Cybersecurity impacts our everyday, as the internet becomes a common feature of our common life, cybersecurity is becoming as ever-growing problem." Brendan shared that even bluetooth-enabled toasters has been used to breach and hack. The gravity of the threat can be difficult to understand. Other countries are trying to compile data that can be used against Americans in Intelligence Targeting.
Drones, although pose many threats, can be lifesaving. Search and rescue missions in the past relied on aircraft. Now, drones can enter tree-covered areas to search for people as a result of artificial intelligence. Cybersecurity is intrinsically important to Brendan, which reflects in his current role at Skydio. Skydio promotes the mission of responsible use. Public safety agencies around the world have been created to protect against the threat of drones. "Transparency is infused into every layer of the company" and there are ethical principles in place to drive advances in technology and policy.
Brendan ends the podcast by encouraging sustainable and scalable solutions. "Embrace the potential of autonomy in both the air and on the ground to make our world safer and more efficient."
Catch Up On Previous Episodes of The Trust Revolution!
Latest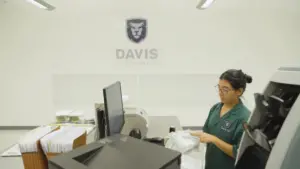 December 4, 2023
The collaboration between Davis Bancorp and CONTROLTEK is a shining example of how shared values and commitment can significantly enhance customer interests. This partnership is rooted in a strong foundation of similarities, with both entities being family-owned businesses that prioritize their people, property, and client service quality. CONTROLTEK's approach is notably innovative and forward-looking. […]
Read More