Cable-Tec 2019: Examining the Next Steps for Telecommunications
New broadband and connectivity solutions have made the world a more connected place. These technologies have also made connections easier and faster in a relatively short span of years.
Cable-Tec Expo is where changes like these are driven forward, and again this week industry professionals exchanged products and ideas at the event. Different opinions and paths forward have been discussed, and while consumers will embrace enhanced speed, data and capabilities with open arms, it will not come without significant efforts from those providing it.
"As cable and other telephone companies are going through tremendous change, they're evolving their networks from physical, traditional gear to virtualized network infrastructure. Gaining visibility to that network is very complex and very challenging," Jon English, Director of Marketing at Netscout said.
Each home or building is unique, which makes universal solutions difficult but necessary.
"You have to be media agnostic because there is no silver bullet as far as connectivity in any building," Kurt Raaflaub, Head of Strategic Solutions Marketing at Adtran said.
He continued, "[Providers] Can't be proprietary because that just extends your time-to-market window when you have to do something three or four different ways, because you have to do it for each type of medium and beyond that, each type of vendor that you have."
With the launch of 5G and 10G technology, cable service providers will have to understand where it is feasible and most beneficial to deploy. Working within existing infrastructure and monitoring bandwidth usage of customers will help determine where best to implement new offerings and see a better customer experience. It will also increase return on investment at the same time.
"We've got data that shows that an average home between the periods of six to nine, one of the most busy times, really only averages about 10 megabits," Teresa Mcgaughey Senior Director of Marketing at Calix said. "But then there's other homes where there's that exception, 500 megabits, etc. So, why blanket it everywhere? Put it where it makes sense."
The future of telecommunication will play a significant role in the way people connect with each other, the content they desire, and their work. While there is still many different possibilities, it seems as each year passes, people can expect connectivity to improve.
Follow MarketScale on Twitter @MarketScale to get the latest from the show!
Latest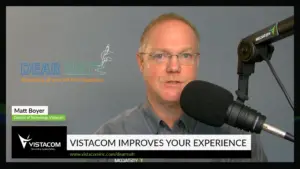 December 11, 2023
In a time when the AV industry supply chain faces unprecedented challenges, understanding its current status and future trajectory is crucial. In this week's segment of "Dear Matt," presented by Vistacom, host Matt Boyer, the Director of Technology at Vistacom, brings his over 30 years of experience in the audiovisual industry to the status […]
Read More