Can Amazon's "Network of Networks" Find Permanent Footing in IoT?
"This is a bold move by Amazon to opt everyone in."
Amazon is launching Sidewalk, a new Bluetooth and radio frequency-enabled "network of networks" that essentially pulls disparate WiFi signals from compatible devices into a low-bandwidth smart network for IoT devices like smart lights, Ring cameras, and Tile devices. Its vision, it says, is to enable an integrated network of smart devices for smart neighborhoods.
Joining MarketScale host Hilary Kennedy to discuss the new network and its implications is Adam Dunkels, Founder & CEO at Thingsquare, an IoT solutions company that helps businesses quickly deploy their internet of things to solve business problems. The two discussed the industry impact of Amazon's network on competition and business models, how consumers can choose to opt-out and how to measure its longterm impact on evolving smart city network infrastructure.
The network is meant to create a more consistent smart device experience in residential areas, helping reach disparate devices like smart garage lights or give users more oversight over WiFi-enabled Tile devices or smart dog collars.
However, Amazon Sidewalk is an opt-out service, meaning Amazon device users are automatically placed on the Amazon Sidewalk network, and because of the nature of the service, users won't know who is sharing their personal signal, nor when. Unless a user opts out, Amazon and Echo Devices will automatically connect with neighbors' devices and their internet connection if they're connected to the network. While data will be shared, the amount will be minuscule, according to Dunkels, but the question is whether a user wants to support Amazon in this.
"This is a bold move by Amazon to opt everyone in," Dunkels said. "They could've faced a massive backlash for this, but it seems like they haven't really done that so far."
As a business model, Amazon is basically subsidizing the cost of this new service by tapping into individual's personally paid-for internet service, leveraging their purchase of existing Amazon nodes instead of investing in new hardware or a more robust network infrastructure. Dunkels breaks down the viability of this business model. And while other companies are looking to do the same thing, the competition just doesn't have the same network resources to leverage.
"Beyond 5G, the Verizon's, the AT&Ts, there are a number of startups that are trying to do similar things," Dunkels said. "They're struggling with 'how do you get the network bootstrapped.'"
Latest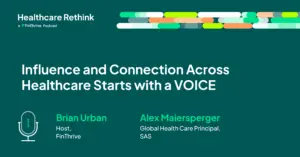 September 29, 2023
In the latest episode of the Healthcare Rethink podcast, presented by FinThrive, host Brian Urban sits down with Alex Maiersperger, the Global Principal Healthcare at SAS. Their conversation charts the role voice plays in influencing and connecting the healthcare industry. Maiersperger, who co-founded the Advancement League, shares his journey from being a healthcare optimist to […]
Read More