IntelliFinishing Smart Controls: A Critical Component for a Flexible Automated Finishing System
In the world of automated finishing systems, not every solution is created equal. There are real differentiators that can improve and streamline processes while increasing both productivity and quality.
With its unique friction-driven conveyor, efficient washers and ovens, and recipe-based smart controls, the IntelliFinishing automated finishing system can increase throughput by 20%, nearly eliminate downtime, and adapt quickly to future changes in processes, coatings, and part specifications. This approach has been proven to reduce operational costs and allow for more flexibility and scalability than traditional chain-based automated finishing systems.  What truly sets IntelliFinishing apart from the rest, however, is our smart control technology.
Smart Controls Enable Smarter Production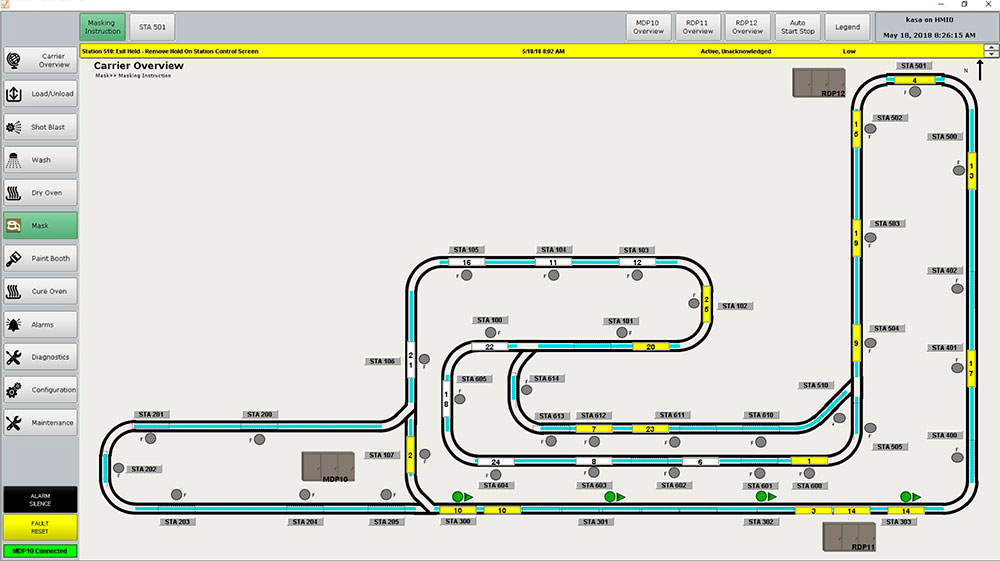 When it comes to developing the best system for finishing goods, the power of smart controls can make all the difference. But why are smart controls so important?
Smart controls in a flexible finishing system are imperative to allow for a recipe approach per carrier, so that each load of parts receives an optimal pre finish, the correct final finish, and the desired oven times based on the best process for the given parts. Smart controls also allow for integration with scanning technology, existing ERP systems, and order scheduling software, so items are identified at load per carrier so they can be monitored and tracked throughout the coating process. This real time and historical reporting and functionality enables faster identification of production line problems or efficiency gaps, allowing for direct optimization of these areas.
With Smart Controls, the entire system status can be viewed at a glance and recipes per carrier can be drilled into on the HMI screen or any networked, system-connected computer. Items that can be viewed include:
Process Phase Times
Production Details (such as parts or carriers per hour and square footage of application coverage)
Part and Order Details
Process Status and Trends (such as blast status, wash pressure and flow per stage, dry/cure oven temperatures, booth status/color applied, etc.)
Oven Time Remaining and Total Time/Temperature (logged per carrier processed)
Prime and Top-Coat Status Trends
Smart controls ensure each part receives its customer-specified coating, as well as empowering your finishing team, giving them the ability to review production data to find bottlenecks, verify quality by looking at environmental conditions, use recipes for accurate part processing, analyze historical data to find insights, and display work instructions at operator stations.
IntelliFinishing's Recipe-Based Smart Controls
When it comes to an IntelliFinishing finishing system, though, the crucial differentiator is our recipe-based smart controls. This means that if a finisher has a wide variety of parts requiring different coating formulas, each carrier on the system can move independently through any process or zone, allowing for various finishing processes to occur simultaneously, i.e., carrier A can receive a shot blast before its wash while carrier B can bypass the shot blast if unnecessary; or carrier A can have a higher pressure wash in certain stages applied during the wash than carrier B; and perhaps most critical, carrier A might cure for more time than carrier B if the substrate is thicker and thereby demands more cure. Combined with multiple lane ovens, carrier B might actually pass carrier A, accelerating throughput without affecting any other operations. Operators simply select the desired recipe for each carrier directly from the HMI screen or recipes can be loaded based on order or part scanning technology.
With an IntelliFinishing system, operations become more efficient with users controlling and adjusting system components specific to the carrier recipe variables, including wash time, dry-off or flash time, color changes, cure oven temperature, and even part delivery to unload stations assigned by part type. Allowing for different products to be run back-to-back and for a wider variety of parts finishing, this unique flexibility delivers lean production flow and the ability to scale production up or down without sacrificing quality.
Complete Visibility with Smart Controls
Offering superior transparency into liquid or powder coating processes, the IntelliFinishing control system can also be interfaced with most MRP or ERP systems or used to display overhead time/countdown data or actual production versus goal production data. Also, a complete facility, a particular part process, and overall productivity can be viewed in real-time through a single source of visibility from any HMI station or web-accessible computer. Further, the HMI screen displays can display hanging or masking instructions and pull this information from PDF files, manuals, or mixed media sources such as videos.
Smart controls also reduce painting errors, notifying users of any color changes and keeping carriers outside the booth until a paint change has been acknowledged. And for those that finish specific parts only occassionally, previous recipe histories are stored and can be accessed by a search function based on past work orders, part numbers, day or time, or even color to ensure consistency from one batch to another batch of parts.
While many finishers may be familiar with our distinct modular friction-tube conveyor, our customers agree: it's IntelliFinishing's smart controls that have raised the bar in the finishing industry. Learn more about how our solutions bring greater efficiency and performance to finishing processes today.
Latest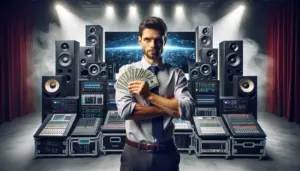 December 8, 2023
Mastering AV sales strategies in a global professional audio-visual (Pro AV) market, poised to reach $79.2 billion by 2028, requires much attention to detail. The surge in demand from corporate, government, and institutional sectors, driven by the need for enhanced productivity and efficient working environments, gives AV sales pros a lot of opportunity. In […]
Read More