LiFi technology is presented as best in the UK to President Xi Jinping in China
pureLiFi, the pioneering technology company based in Scotland, using light to create next-generation wireless networks, have presented LiFi technology to President Xi Jinping at China's International Import Expo (CIIE). The presentation took place as part of a UK innovation-themed pavilion with His Royal Highness The Duke of York and International Trade Secretary The Rt Hon Dr Liam Fox MP.
LiFi technology was Invented in Scotland and commercialised by the Edinburgh based company pureLiFi. LiFi presented as a symbol of UK innovation which enables more secure, energy efficient and faster connections – that can provide 1000 times more bandwidth than conventional WiFi.
This is the first time LiFi has been presented to the President Xi Jinping. The LiFi light bulb on show, is the first of its kind and created by the world leaders in LiFi innovation, pureLiFi.
CEO of pureLiFi Alistair Banham remarks on the opportunity.
"LiFi is a disruptive connectivity platform that will revolutionise wireless communications for 5G and beyond. China has the highest number of internet users in the world, and LiFi could make a significant impact on China's wireless infrastructure, providing highspeed, efficient data with unprecedented bandwidth. We are excited by the opportunity for our technology to be presented for the first time to the president as an exemplar of British innovation."
As wireless communications evolve towards 5G networks, there are greater requirements for non-cellular data communications, and LiFi offers unprecedented bandwidth for high speed, reliable and inherently secure wireless communications.
Global adoption of LiFi is on the rise. pureLiFi have deployed LiFi technology with more than 100 organisations in 23 countries in sectors including telecommunications, engineering, enterprise, disaster response and defence. The company has developed trials with global organisations such as O2 Telefonica, BT, Cisco, and Verizon.
With bilateral trade in goods and services between the UK and China reaching a record £67.5bn in 2017, CIIE provides a unique platform for Chinese businesses, investors and consumers to connect with UK companies and strengthen long-term partnerships in the golden era of UK-China relations. LiFi is a UK innovation that could revolutionise communications for China and beyond.
Latest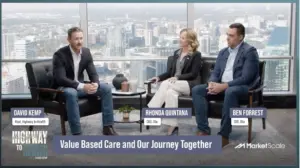 December 7, 2023
As of recent times, the healthcare industry has been progressively shifting towards value-based care, a model that emphasizes patient outcomes over the quantity of services delivered. This transition represents a significant shift that promises to enhance patient experiences and outcomes while controlling healthcare costs. With a growing emphasis on this approach, especially over the […]
Read More