Pandemic Accelerated Demand for Semiconductor Chips, Says Intel VP
The global chip supply chain is in crisis mode after a mass shortage and the COVID-19 pandemic. Watch or read below as Gregory Bryant, Intel executive VP of client computing, talks about the demand for semiconductor chips.
—
Host: Let's talk first, Greg, about the demand, is this just a snap back from covid, from the pandemic lock down, or is there really demand at a level that the industry has never seen?
Bryant: Hey, Matt, Thanks for having me on. I really appreciate the opportunity. And, you know, it's not a snapback, really. If you step back even before COVID, we had this trend towards the digitization of everything, of everything, whether it was the automobile, the factory, the hospital. We saw strong demand increasing in those areas of those as those services became more and more digital. And then certainly with the onset of COVID, we did see a massive acceleration and a real disruption in that demand and the shape of the demand. And it was uneven across the industries. But I believe a lot of that is elastic. It's truly an acceleration. Just in my business, client computing at Intel, if you think about the way people are using PC clients and the need to work from home or work from anywhere, or the ability to learn and do and provide education from home, the need to connect with family and friends around the world, those changes are substantial and I believe the lasting.
Host: So we've seen, obviously, the news of your $20 billion bet on US manufacturing, great news really, I guess for people who need your chips, especially close to home in the US supply chain. Are you able to ramp up quickly enough to match this demand or are there areas where Intel is feeling the pressure as well?
Bryant: Well, we're leaning in to this demand and investing in capacity. Just two weeks ago, we outlined our new IDM 2.0 strategy. That's the integrated and design and manufacturing strategy that's unique to Intel and the footprint that we have around the world. So we're investing in our own internal capacity to meet the demand of our customers and leveraging the leadership technologies that we have in packaging and in building leadership products in every segment that we participate in. In addition to that, we're partnering with a global supply chain and external foundries and partners, obviously, to help drive even more capacity and supply and advantages, cost advantages and tailor products for our customers. And then third and last but not least, we announced Intel foundry services, which is our entry into being a foundry capacity supplier, a provider of capacity in the United States and Europe for customers around the world. And we put our chips on the table. We were investing $20 billion in Arizona for the first two factories. And we intend to accelerate our capacity to help meet this demand.
One other thing I'd say, Matt, is that we're unique in that we have this large global footprint. And we can work with the global supply chain partners, these third parties who are needed to build the materials and the individual component supplies that help our customers deliver their solutions. So we're trying to help solve the greater industry problem that exists to meet this demand.
"We're leaning in to this [chip] demand and investing in capacity." – Gregory Bryant, Intel executive VP of client computing
Host: There have been analysts who are concerned, especially with government involvement, Biden's plan to try and stem the chip shortage could lead to a structural oversupply over time. How do you feel about that?
Bryant: Look, we think we're at the beginning of a decade, a decade long cycle of demand. As I said in the opening, with the digitization of everything across industry, we think that demand is lasting. And and we've clearly seen that semiconductors are an important and essential part of every industry. So we've got to get on board with not just investing in the physical infrastructure, but also investing in the digital infrastructure. We think that's important. We're obviously going to invest in capacity independent of that. And that was part of the announcement of the $20 billion expansion. But we actually we want to see support for accelerated investment. We've got to build out more quickly because we do think this is a lasting decade long cycle.
Host: How important. I just got 30 seconds here, Greg, but how important is the dawn of a guy to your industry?
Bryant: Incredibly important. More and more of these devices as they become digital. They're becoming more intelligent. And we think that we're unique in that we have the software, the hardware, the manufacturing, the design capability. Now foundry services to enable us and our customers and partners to build these more intelligent solutions to meet the needs of the future. And we're committed to do just that.
*Bloomberg contributed to this article
—
Follow us on social media for the latest updates in B2B!
Twitter – @MarketScale
Facebook – facebook.com/marketscale
LinkedIn – linkedin.com/company/marketscale
Latest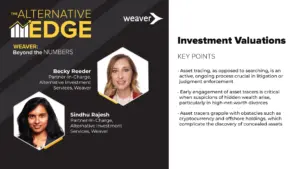 December 4, 2023
In this episode of The Alternative Edge, a Weaver: Beyond the Numbers Podcast, host Becky Reeder, an audit partner and co-leader of the alternative investments practice at Weaver, engages with Sindhu Rajesh, an Alternative Investment Services Partner with Weaver. They unpack the complexities of venture fund valuations, offering critical insights into industry dynamics and best […]
Read More