Protecting Against Internal Threats: Cybersecurity Measures to Take
Cybersecurity is typically synonymous with external threats, like scammers and hackers. Eli Sutton, VP of Global Sales at Teramind, shared with Marketscale host Tyler Kern that he believes internal threats are also significant.
"No one is really keeping tabs on what a user is doing once they're already inside an organization," said Sutton. As a result, users may be purposefully or unintentionally creating damage digitally over periods of time without anyone noticing. Solutions like Teramind, which Sutton explained, "provides you with user activity monitoring and data loss prevention," can minimize this security risk.
Using a tool like Teramind, companies across multiple industries can both prevent cybersecurity incidents and have real-time alerts in place. "Every industry has its unique concerns and compliance regulations," Sutton said, highlighting the value of Teramind's ability to use data to show companies their unique "cybersecurity health checks" so they can see risks and solutions.
Along with monitoring and data loss, Teramind offers training and education. Sutton said this is because "It's one thing to provide somebody with a tool, it's another thing to provide somebody with training." Training helps people utilize tools well and opens eyes to unexpected threats, like the lack of security on instant messaging tools commonly used in workplaces.
Check out Noise Reduction with Collyer Spreen!

For the latest news, videos, and podcasts in the Software & Technology Industry, be sure to subscribe to our industry publication.
Latest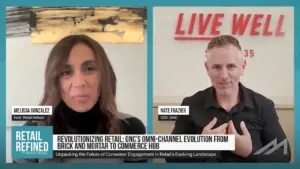 November 29, 2023
The transformation from a traditional brick-and-mortar store to an integrated commerce hub is crucial in the fast-evolving retail landscape. GNC's omni-channel evolution epitomizes this shift, blending in-person and digital experiences to meet the contemporary consumer's demands. But what does this mean for the future of retail? "Retail Refined," hosted by Melissa Gonzalez, welcomes Nate […]
Read More