When is Outsourcing Your Accounting Needs the Right Move?
Companies have been struggling to find quality accounting talent for years now. The reason why is multi-layered, including a competitive job market, but one of the major reasons we're focusing on in today's episode of the podcast is hiring strategy.
What Personiv, an outsourcing firm and frequent guest company on the podcast, has tried to bring to the market is a solution that takes advantage of the wide network of outsourcing talent across the globe while retaining quality, communication and buy-in.
How effective is their strategy, and is it helping bridge the gap between companies and their accounting needs?
Our guest, Matt Wood, Vice President of Client Services at Personiv, joined the podcast to give his breakdown of different hiring strategies, which work best and when, and why communication tools are making outsourcing more realistic for companies of any size.
Wood and host Daniel Litwin discuss…
How impactful and realistic the CPA shortage really is and the core reasons it's happening
The pros and cons of in-house hiring, staffing agencies, and outsourcing
How companies are reacting to outsourcing in today's economy
How remote tools have improved in recent years to foster more productivity, accountability, engagement and team building
For the latest news, videos, and podcasts in the IoT Industry, be sure to subscribe to our industry publication.
Follow us on social media for the latest updates in B2B!
Twitter – @MarketScale
Facebook – facebook.com/marketscale
LinkedIn – linkedin.com/company/marketscale
Latest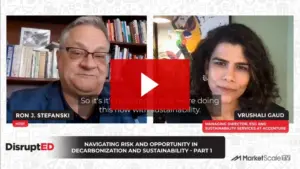 September 26, 2023
The global conversation has shifted dramatically towards decarbonization and sustainability in recent years. With the world experiencing unprecedented levels of disruption, from 5G technology to the challenges of a pandemic, the urgency to address climate change and its implications has never been more palpable. Although most business leaders see the vision of Sustainable Development […]
Read More