DeskMakers: Introducing the Ribbon Collection
Deskmakers, a state-of-the-art facility and one of the leading office furniture manufacturers in the West, recently teamed up with Gecco Vision, an award-winning design firm spearheaded by Founder & Design Director Henner Jahns. Together they created a brand-new case goods line designed for the private office but flexible enough to stand out in any open office-space concept.
The new line is called Ribbon, and it marries classic design with a mid-century modern aesthetic to create a stunning series of pieces ideal in any high-end office environment. Phil Polishook, the Owner and CEO of Deskmakers, and Gecco Vision's Henner Jahns walked host James Kent through this exciting new furniture line.
"We at DeskMakers have always been strong in the private office," Polishook said. "In the last few years, in the office industry, there's been a focus on the open plan." In 2013, DeskMakers partnered with Gecco Vision on a successful open-plan furniture line called Teamworks. After reviewing the market, Polishook said DeskMakers saw continued sales in the private office space, and thus the genesis of Ribbon was born.
DeskMakers knew they wanted a slick, upscale design for their new collection, and they knew Gecco Vision could deliver.
"We got a very good idea from Phil as to what he was looking for," Jahns said. "With him having said it should be a little upper scale, but still modern, elegant, we looked for inspiration in things that are simplistic and still fulfill the functional need of a private office product." The idea of a ribbon, with its simple shape, became the launchpad for a leg shape with a mid-century inspired form factor that combines well with other elements.
Polishook said that with today's open office environments where one may find conference rooms and private offices behind glass, the Ribbon line provides the stand-out elegance that will create a genuine wow factor.
Latest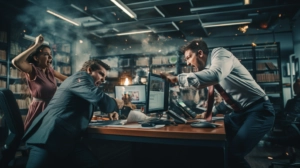 September 22, 2023
The kind of news that is delivered everyday serves as a grim reminder of the escalating violence across the U.S. Evidently, the need for proactive measures to ensure safety has never been more pressing. Such violence is not limited to any particular locale. It's actually permeating in so many different areas once considered […]
Read More