Hire Education: Work from Home, Sustainability and Content Creation
What's your why and where are you going? It's an interesting philosophy and one that few would associate with the real estate industry. But that's par for the course when it comes to speaking with Roy Reis, Senior Vice President at Cresa. Reis sat down with long-time colleague Alex Anderson, Chief Financial Officer at Catapult, to discuss a plethora of subjects under the umbrella of how they are impacted by the work-at-home environment normalized by the pandemic.
The fascinating conversation opened with the two podcast guests introducing one another. The two met through a cold call when Reis contacted Anderson about the real estate needs of Catapult.
"Our relationship developed over time. The reason why Roy is still, I would consider a close, professional and personal relationship of mine is because of the way his brain works. I think in the podcast you'll get an opportunity to see that. Roy's ability to deliver services for his clients is not founded purely on how much money he can make for his organization. It has everything to do with what you need as an individual, what your business needs, what your people need," said Anderson.
Reis's unique approach comes from a unique philosophy. Reis believes the discussion about working from home is the completely wrong discussion to be having. He mentioned Simon Sinek's book Start With Why and truly believes in the philosophy of asking five whys to get to the heart of what is being done. It's clear that his unique business philosophy extends to all aspects of his work. In speaking about Alex, Reis said:
"The reason I like Alex is because Alex is a critical thinker. Alex thinks beyond just the numbers. He thinks about people, he thinks about the business. And if you think about a business, what is a business? A business is just a collection of people getting together to perform a service, or a product and sell it to somebody that it's going to provide value in their life."
Cresa is a trusted commercial real estate firm that thinks beyond just space and looks at the impact of its properties on landlords and tenants alike. This was particularly important when the two guests first met as Catapult would welcome clients into its offices daily requiring multiple meeting spaces in addition to offices.
At Catapult, recruiters "identify talent and deploy that talent for our clients. So, we're identifying typically, difficult-to-find skill sets or people with certain skill sets that are difficult to find and we're aligning them with the requirements or needs of our clients. There is an additional layer there that is the consultative nature of staffing firm," noted Anderson.
He continued to discuss how the work-from-home culture made necessary by the pandemic changed the way Catapult does business. For the first time, the company was able to source globally because they no longer had to worry about geography and time zones. He continued to note that there hasn't been a client in nearly three years, which reduces the amount of office square footage needed.
Listen in to hear additional unique perspectives on ESG (environment, social, and governance) strategies, hiring trends, and content marketing strategies in real estate.
Latest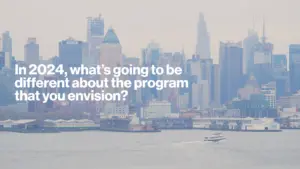 December 1, 2023
In the dynamic telecommunications landscape, Verizon's Partner Network continues to evolve, adapting to new trends and opportunities. For another segment featuring Mark Tina, VP of Indirect Channel Distribution and Channel Chief at Verizon Business Group, he explores exactly what types of significant changes and advancements the Verizon Partner Network will see in 2024. In this […]
Read More