Patient Access Pulse by Pelitas: Engaging iPAS Version 10 for Interoperability
As healthcare revolutionizes to meet interoperability needs, so does the technology. iPAS Version 10 (v10) is one data management tool driving the transformation. Kristine Anderson, Vice President of Solutions Management at Pelitas, and Tracy Eckerman, Associate Vice President of Technical Solutions Management, met with host Tyler Kern to explain exactly how.
The pandemic accelerated tech too creation to meet various healthcare needs, such as patient access, telehealth, and virtual intake. The virtual intake medicine suite was one of the first products iPAS v10 launched; it involves the patient so they are an active participant in their care management.
While helpful, the variety of tools has presented challenges, creating siloed data if not properly integrated. "Interoperability is going to be absolutely critical in this next year for being able to leverage all of those tools," explained Eckerman. Next year, the plan is to deepen integration opportunities. "It's really going to be exciting to build on what we've already done and take the product to the next level," said Anderson.
Anderson provided the definition of data management, stating that it is "the practice of collecting, keeping, and using data securely, cost-effectively, and efficiently.'" Collecting data seems basic, but what data needs to be collected varies by patient. It must be stored in the EHR without extra steps and used effectively to easily manipulated reports that track trends.
Looking forward, where does the ultimate answer in healthcare data management lie? "Digital transformation maturity doesn't happen overnight but getting the right data in the right system and working with the right people will drive organizational transformation and help our clients improve their business processes in patient access," Eckerman summarized.
Head to pelitas.com for insight into iPAS v10 and subscribe to Patient Access Pulse to keep up with the latest topics
Latest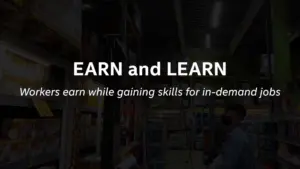 November 30, 2023
Faced with a significant workforce training gap, America is seeing a rise in innovative solutions, notably the earn and learn programs. These initiatives are pivotal in addressing the disconnect between available jobs and the skills of the workforce, particularly benefiting those without a four-year college degree. SkillPointe emerges as a key player in this […]
Read More