Breaking Down Career Paths in Pro Audio
The Pro Audio industry remains an enigmatic territory for many. Often appearing as a glamorous field that comes to life under the bright stage lights, the path leading to its entrance is far less conspicuous. If you're a seasoned audio professional, an ambitious sound engineer, or someone intrigued by the alluring Pro AV world, join us as we explore this fascinating industry through the eyes of Matt Lawrence, an experienced live sound professional and an ambassador for Avid Live Sound.
Breaking into the Pro AV Industry: A Unique Tale
Beginning his career as a young musician with a passion for sound engineering, Matt Lawrence is no stranger to the twists and turns of the Pro AV industry. Over the years, he has shared the stage with revered artists like Snoop Dogg and Lauryn Hill, experiences that added profound dimensions to his career. These interactions afforded him an authentic understanding of the industry, helping him see beyond its seemingly glamorous facade.
The Unvarnished Truth: Challenges and Sacrifices in the Pro AV Industry
Matt Lawrence's journey isn't just about the highs of performing with renowned artists, it also encompasses the challenges and sacrifices that are integral to any career in the Pro AV industry. He candidly shares these experiences, throwing light on the unexpected truths behind this career choice. From long tours away from home to the intense pressure of live performances, Matt reveals the industry's reality, painting a comprehensive picture for those aspiring to join the field.
Watch the conversation above!
—
Check out more episodes of Pro AV Today here.
Latest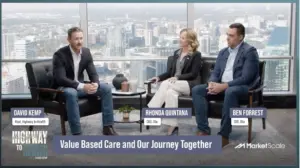 December 7, 2023
As of recent times, the healthcare industry has been progressively shifting towards value-based care, a model that emphasizes patient outcomes over the quantity of services delivered. This transition represents a significant shift that promises to enhance patient experiences and outcomes while controlling healthcare costs. With a growing emphasis on this approach, especially over the […]
Read More