Finding Talent Anywhere Around the Globe with Lach de Crespigny
One of the emerging trends in AV and across all technology over the past few years is the shift to cloud and web-based workflows. But with these trends come the challenges. As AV and tech companies find themselves ill-equipped to accommodate these shifts, companies are outsourcing remote labor to handle these challenges at a previously unseen rate. Ben Thomas reached out for an expert's perspective on the situation. Lach de Crespigny, Co-Founder of Revelo, joined him to discuss outsourcing engineers in the AV industry. Revelo is a leader in the global engineering talent staffing space.
Additional shifts occurring in the space are a rapid move to remote workers. And with the talent crunch of software engineers in the United States during COVID and beyond, companies need to get creative in finding the resources they need. The move to remote unlocks the old paradigm of hiring and extends the resource pool to a global footprint.
The stigmatism towards hiring these engineering positions through international sourcing is gone, and companies feel free to build their teams with the best people, no matter where they live.
"As long as you speak good English, are technically strong, and work in my time zone, I don't really care if you're living in San Francisco, Austin, Texas, Mexico City, or San Paolo, Brazil," de Crespigny said. "So, we had a flood of American companies, who for the first time started hiring remotely. They were looking for the same thing they used to look for in a new in-person employee; they just said, okay, why don't I expand my talent pool to the 600 million people in Latin America, get better engineers, often for a competitive price. I'll be able to accelerate the progress of my company."
Latest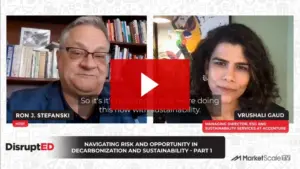 September 26, 2023
The global conversation has shifted dramatically towards decarbonization and sustainability in recent years. With the world experiencing unprecedented levels of disruption, from 5G technology to the challenges of a pandemic, the urgency to address climate change and its implications has never been more palpable. Although most business leaders see the vision of Sustainable Development […]
Read More