Navigating Layoffs with Positivity and Purpose: A Marketers Perspective
In this episode of Pro AV Today, host Ben Thomas is joined by Michelle Okeke, an accomplished marketing professional with extensive experience in high-profile tech companies and advertising agencies, shared an intimate and personal perspective on job layoffs, a scenario that she has endured throughout in her career.
Okeke shares insights on the concept of turning adversity into opportunity, leveraging personal networks, and utilizing personal branding. Her words are profound, coming from a place of experience and a spirit of resilience.
She begins by stressing the importance of understanding the consumer. As a marketer, this is a core principle that has guided her across multiple job positions and companies, including Twitter, Facebook, Pinterest, Essence, The Root, and Time Inc. Her primary aim has always been to resonate with the audience, identifying their needs, motivations, and the solutions that a product or service can offer them.
As the discussion veers towards layoffs, Okeke's optimism and strength are truly inspiring. After her most recent layoff, instead of wallowing in disappointment, she chose to view it as an opportunity for growth and exploration. Okeke had already scheduled to speak at the American Marketing Association's Collegiate Conference, and she took the chance to talk about her experiences with layoffs and how networking and trust have helped her navigate these challenging times.
One key theme that Okeke addresses is the concept of personal branding. She encourages listeners to consider their personal brand not just as a marketing tool, but as a means to provide value and educate others. Her own personal branding on platforms like LinkedIn has helped her connect with new people and opportunities, even amidst career challenges.
Her faith, her network, and her self-belief form the crux of her strategy to tackle layoffs. What's compelling about Okeke's narrative is her refusal to see herself as a victim of circumstances and her determination to turn each setback into a learning opportunity.
Okeke's story offers valuable insights for anyone facing a similar situation, serving as a reminder that every setback can be transformed into an opportunity for growth. Her experiences underline the importance of resilience, optimism, networking, and personal branding. It's a powerful lesson in finding the silver lining amidst the storm, making her appearance on Pro AV Today an essential listen for professionals across industries.
Latest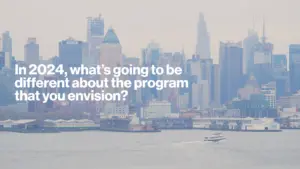 December 1, 2023
In the dynamic telecommunications landscape, Verizon's Partner Network continues to evolve, adapting to new trends and opportunities. For another segment featuring Mark Tina, VP of Indirect Channel Distribution and Channel Chief at Verizon Business Group, he explores exactly what types of significant changes and advancements the Verizon Partner Network will see in 2024. In this […]
Read More