School Safety Today: The Rising Importance of Cybersecurity in the Classroom Paves the Way for Iniatives to Keep Kids Safe
In this episode of School Safety Today, host Daniel Litwin spoke with Raptor Technology's SVP of Product and Engineering, Chris Noell, on the importance of cybersecurity in the classroom. Noell spoke about what it means to have best-in-class IT security requirements to reduce the likelihood of new and dangerous cybersecurity breaches impacting educational settings while compromising critical student and staff data.
This important topic has come to the forefront of public-school initiatives due to the rise in cybersecurity breaches at the school level. According to According to the State of K-12 Cybersecurity: 2020 Year in Review, 377 school districts experienced a record-setting 408 publicly disclosed cybersecurity incidents (k12cybersecure.com). The issue is so prevalent that it gained the attention of the Biden administration. In fact, President Biden signed the K-12 Cybersecurity Act of 2021 to equip elementary and secondary schools with strategies to combat cyberattacks.
According to the report, 36% of cybersecurity incidents reported were data breaches/leaks. Noell addressed the how cybersecurity impacts the K-12 classroom as well as associated costs.
"I think the first thing to think about with a data breach when this happens it is a community event. It is in the news it is something that's going to cause everybody in a leadership position to freeze and focus on this."
Noell continued to highlight potential costs such as third-party forensic firms, disruption in service, loss of trust with the community, and possible financial liabilities as well. Clearly, this issue is a big one. Noell noted how difficult it is to rebuild community trust and the challenges students might face including families dealing with credit cards being opened in their children's name.
And that's just the beginning. Litwin and Noell continue to discuss the future of cybersecurity in educational settings including what schools can do to protect themselves; how schools can find the best vendors to meet their needs; and the innovative best-in-class IT solutions that Raptor offers schools.
Latest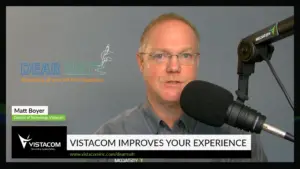 December 11, 2023
In a time when the AV industry supply chain faces unprecedented challenges, understanding its current status and future trajectory is crucial. In this week's segment of "Dear Matt," presented by Vistacom, host Matt Boyer, the Director of Technology at Vistacom, brings his over 30 years of experience in the audiovisual industry to the status […]
Read More