Connected World: Toward a Sustainable Future for Mobility and EV Architectures Part 1 of 3
There's a lot to be excited about in the world of autonomous vehicles. Still, there are many challenges ahead, including misconceptions to clear up and technology hurdles to climb before EV's go mainstream. Ralf Klaedtke, The Chief Technical Officer for Transportation Solutions at TE Connectivity, shared his insights on those challenges and the trends shaping the industry with a push towards full autonomy. With so much great content to cover, Klaedtke joined Connected World's Tyler Kern for this first of three separate episodes on the topic.
Klaedtke told Kern it wasn't long ago that people began dreaming of the day when autonomous driving was the norm. But that day isn't here yet. So, what's the hold-up?
"A lot of development has taken place," Klaedtke said. "A lot of energy and time has gone into that, but I think issues like weather, snow, mixed traffic have been much stronger than most of us thought, and therefore the whole process is safety-oriented and taking longer than expected."
There are many reasons why the world is waiting for autonomous vehicles to hit the mainstream. One of the primary benefits will be the supply chain, which is in desperate need of solutions to combat the present-day lack of qualified truck drivers.
And yes, there are varieties of autonomous vehicles on the road, but what is primarily available today are various levels from 1-3, which require different needs from a physical driver. Getting to full autonomy requires technology progressing to levels 4 and 5. Several barriers, from technical and logistical to liability, must be overcome to achieve those levels. And if there is an accident, who takes over that liability is something that car manufacturers need to work out.
Latest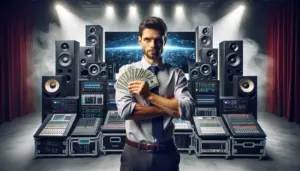 December 8, 2023
Mastering AV sales strategies in a global professional audio-visual (Pro AV) market, poised to reach $79.2 billion by 2028, requires much attention to detail. The surge in demand from corporate, government, and institutional sectors, driven by the need for enhanced productivity and efficient working environments, gives AV sales pros a lot of opportunity. In […]
Read More