Video Vices: Understanding AV Over IP Security Issues
In this episode of Video Vices, Tyler Kern speaks with two global experts in the AV industry regarding security issues when utilizing AV over IP. Combined Mohamed Malis, Senior AV Project Manager of TAD (Technology, Architecture, Design) Associates, and Matt Boyer, CTO of Vistacom have over 48 years of experience in the audiovisual industry.
Malis began his career in computer science and eventually fell in love with everything AV. He has 18 years of experience in the industry and presently manages all of TAD's AV projects throughout the EMEA region. Boyer has worked 30+ years in AV with most of those spent at Vistacom. He presently works with clients to find technology solutions to address business needs.
Both gentlemen agreed that AV over IP security is possible. Malis commented that "it is a simple question, yet complicated." He also noted that "as technology progresses, new encryption, new authentication, it's getting more and more secure. So, if it's done properly, it's definitely secure."
Seems like the logical follow-up to the issue of security is whether there are advantages to utilizing IP instead of RF. "There's a lot of advantages for IP over RF but they're not necessarily from a security standpoint… but there are a lot of added benefits to using IP over RF," stated Boyer.
Listen in to learn more about these benefits as well as additional thoughts on AV over IP security; AV over IP implementation planning; and the steps businesses can take to ensure they have high-quality network security.
Latest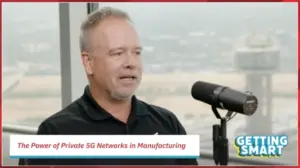 September 25, 2023
The Convergence of 5G and Automation in Manufacturing: A New Industrial Revolution The manufacturing industry stands at an inflection point. Advances in 5G technology and automation are coming together to transform the way products are made, and the role that humans and machines play in this process. Per Treven, Director of Business Development at Ericsson, […]
Read More