Contemporary Research: The META for AV in E-Sports
The esports industry has experienced tremendous growth over the years and, according to Statista, it's anticipated that there will be 286M esports enthusiasts in 2024. That's up from the 197M accounted for in 2019. Contemporary Research's podcast host Gabrielle Bejarano spoke with Mike Rufail, Founder and CGO at Envy Gaming about how the Pro AV industry influences esports.
To begin, Rufail provided insight to listeners who may not be familiar with E-Sports, "we're effectively a sport but a sport that is played in video games. Instead of a ball or a bat or a club, we are using controllers and mice, and keyboards and screens are effectively our playing field." From there, the conversation turned to the significance of audiovisual equipment in supporting esporting events.
Rufail noted that visualization is essential to support the games being played at a very high level as well as help spectators understand what is happening inside the games. In fact, esports are prone to use AV equipment more than other sporting events and concerts, and so on since screens are what connect gamers with their audiences.
"Audiovisual equipment is very important in our industry and right now we are making full use of a lot of LED screens. For example, here, just within our headquarters building, just within our office space, we have a ten-foot LED wall inside a live production studio. We also have a massive 24-foot LED wall inside our pro-player lounge where our staff can come and watch the games as teams compete all over the world," said Rufail.
And this is just in the office. Actual gaming events rely even more on AV equipment, and they have evolved to be truly spectacular displays of the latest technology. For example, Envy Gaming hosted the Overwatch League Season 1 Championship at the Barclays Center in Brooklyn, New York. The company brought in the largest stage production and event set-up in the center's history.
Pro AV will continue to inform and support the evolution of the esports industry. Visit Envy Gaming to stay abreast of the latest esporting trends and events.
Latest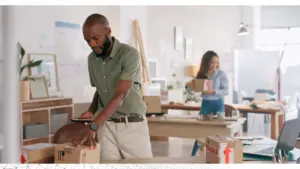 November 29, 2023
While the logistics industry often gravitates toward cutting-edge technology, Wesley Boyce, an Assistant Professor of Practice in Supply Chain Management and Analytics at the University of Nebraska-Lincoln, brings to light the enduring significance of radio communication. In a world enthralled by digital innovation, he argues that the simplicity of radios could be their greatest […]
Read More