3 Pro AV Trends to Watch for at CES 2023
As the Pro AV industry is always evolving and improving, the Consumer Electronics Show (CES) offers an opportunity to stay up to date on the newest advancements that will impact our industry. Whether you're a manufacturer or a user experience expert, there are three major areas of new technology to keep an eye out for this week: display technology, home automation, and in-car entertainment.
Display technology is seeing major advancements in both residential and commercial applications. Companies like Sony, LG, and Samsung have released products like 'The Wall' – a large format and high-resolution display system that can be incorporated into many different settings such as homes or digital signage displays. These new developments are starting to break down barriers of cost and size that were previously felt by many Pro AV professionals. Not only has display technology seen advancements but home automation has as well
Home automation is an increasingly important topic in residential settings due to the 'Resimercial' trend – allowing integrators to install tech that empowers homes to reach their full potential.
The last area of innovation worth keeping an eye on is in-car entertainment systems. As autonomous driving becomes more popular, more attention needs to be paid towards creating great user experiences within vehicles so passengers have something entertaining or informative to do during their journeys rather than just watch the road ahead of them! New audio systems are being created along with full display experiences via touch screen and large display systems, so there are plenty of opportunities here for Pro AV manufacturers looking for next-gen opportunities.
Latest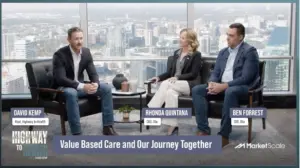 December 7, 2023
As of recent times, the healthcare industry has been progressively shifting towards value-based care, a model that emphasizes patient outcomes over the quantity of services delivered. This transition represents a significant shift that promises to enhance patient experiences and outcomes while controlling healthcare costs. With a growing emphasis on this approach, especially over the […]
Read More