AV Brings Digital Art Outside in Chicago
On Feb. 25, Chicago's mayor Rahm Emanuel introduced "Art on the Mart", a lighting project turning Chicago's 1930's art deco Merchandise Mart into a three-acre riverfront canvas using a process called projection mapping. On Sept. 29, the display will go live for the first time.
Projection mapping is the display of images on a non-flat, non-white surface. San Francisco based [1]Obscura Digital, in partnership with the City and the property owner, will create the first permanent projection mapping display/lighting installation.  This effectively turns any surface into a canvas.  Media companies such as Techomedia, Skull Mapping, and Oskar & Gasper have specialized in this technology, some for decades. They have been instrumental in showing that an image can be projected onto any surface. For the "Art on the Mart" project, the building's façade will be illuminated by 34 video projectors and will create a 3-acre riverfront canvas on which to display the work of local artists.
In 2010, the Guggenheim Museum was turned into the first "canvas." The external projections were done by Obscura and Consortium Studios.  Through Projection mapping, the Guggenheim was turned into a futuristic media awards venue at which finalists of the first "Play: A Biennial of Creative Video" were announced.
Other world-famous structures have been transformed, at least temporarily, by this technology.  During the Vivid Festival in Australia, the Sydney Opera House was also turned into a canvas.  The difference between the Guggenheim Museum and the Opera House was that the projectors covered the Opera House from all angles, allowing the viewer to enjoy the art no matter where they stood around the building or on the water.  Even the Vatican utilized projection mapping for the occasion of honoring Pope Francis. The technology allowed the showcasing of photographs from world renowned photographers during the Fiat Luxe: Illuminating Our Common Home presentation.
Projection mapping can be used in advertising, for concerts, theater, gaming, decorations and as permanent or temporary displays.  This is, not surprisingly, a rapidly growing industry.
Doctorow, Cory. "Projection-Mapped Light-Show on the Sydney Opera House." Boing Boing, 23 June 2018, 12:46pm, boingboing.net/2018/06/03/jonathan-zawada.html.
Koziarz, Jay. "Merchandise Mart Will e Turned into the World's Largest Digital Art Display." Curbed Chicago, 26 Feb. 2018, chicago.curbed.com/2018/2/26/17053270/merchandise-mart-lighting-video-public-art.
Trevino, Julissa. "World's Largest Digital Art Display Will Go Live This Fall in Chicago." Smart News, Smithosian, 1 Mar. 2018, www.smithsonianmag.com/smart-news/worlds-largest-digital-art-display-will-go-live-fall-chicago-180968284/.
Vartanian, Hrag. "Guggenheim's 'Play: A Biennial of Creative Video' Wows." HYPERALLERGIC, 22 Oct. 2010, hyperallergic.com/11332/guggenheim-play-biennial/.
Latest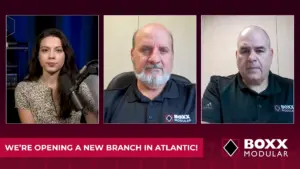 December 4, 2023
In an era where construction innovation is reshaping the industry, modular construction's growth continues to rise. In this episode of Built Modular, Boxx Modular's strategic expansion into Moncton, Atlantic Canada takes center stage. Host Gabrielle Bejarano welcomes Charles Landry and Ray Girouard to explore the implications of this venture. Bejarano, Landry, and Girouard discuss […]
Read More