CEDIA 2022: Which Technologies & Trends are Shaping Pro AV?
Updated September 30, 4:30PM CT.
The hit residential technology show of the year, CEDIA 2022, is back in full force at Dallas' Kay Bailey Hutchison Convention Center, right in MarketScale's backyard. Offering insights into the home tech market with a showcase of over 300 brands in integration, design and construction of smart home technology, CEDIA Expo is drawing over 15,000 industry professionals to learn what's defining the biggest challenges and opportunities in home tech.
The home tech market is expanding its scope, drastically accelerated by the pandemic's blurring of commercial and residential space and workflows. This trend is front and center at CEDIA this year with its Innovation Hub focusing on "merging industry trends such as work from home, resimercial, security and more." And with this increase in scope comes an increasing number of layers around the residential and commercial experience that require innovative solutions and imaginative strategy. Industry leaders are guiding critical discussion at CEDIA 2022 around topics like Health and Well-Being Strategies for Residential, Managing Subcontractors in Today's Gig Economy, Where Smart Home Protocols Stand in 2022, The Intersection of Technology Professionals, and Understanding, Selling & Implementing Human Centric Lighting.
This is a critical time for the smart home market, too, and the perfect moment for home tech professionals to talk shop and discuss strategy for the next era of their industry. Smart home technology adoption is ticking up at a consistent scale, reaching nearly 303 million households worldwide this year, with estimations of upwards of 478.2 million households by 2025. The industry's global revenue forecast, earmarked at $122.9 billion for 2022, is expected to reach $182.4 billion by 2025. While smart appliances still hold the largest market segment of the broader smart home industry, the ecosystem is clearly growing in use cases and enterprise validation as other verticals like control & connectivity, security, and comfort & lighting gain year-over-year steam.
While Amazon still dominates the $113 billion market, the spread of solutions pushing the boundaries of smart home tech reach far beyond smart speakers and connected thermostats. This is evident from the variety of companies leading conversation on the show floor, from Sony and Harman, to Draper and Legrand.
MarketScale's Pro AV team, including Host of Pro AV Today Ben Thomas, has been hitting the show floor to hear from said companies and tap into the technologies and dialogue shaping CEDIA 2022. We'll be updating this page throughout the day with more soundbites from key companies in the space, as well as showcasing some exclusive interviews with the general manager of Savant Systems, and CEDIA's Global President and CEO, Daryl Friedman.
CEDIA 2022 Expo started September 29 and will continue through October 1.
The Newest Tech in Outdoor Audio and Lighting Systems
In the latest update from CEDIA Expo 2022, Kordon Vaughn, Snap One, talks to MarketScale about one of the latest technologies shaping the pro AV industry today. Episode Radiance, a new outdoor audio, and lighting system that features two-conductor wiring for powering audio and lighting. An all-metal 70-volt outdoor speaker and LED light module are included in the Episode Radiance series for both spot and flood lighting applications.
Wireless Controlled Lighting Technolgy
In the latest update from CEDIA 2022, Jennifer Kirkpatrick, National Sales Manager Residential Lighting, American Lighting talks to MarketScale about one of the technologies shaping the pro AV industry today, their new spectrum plus system. ProLuxe by American Lighting, a company dedicated to providing advanced lighting solutions that create a unique experience for every user. With over 30+ years of experience developing and engineering LED products, their passion for technology and design drives them to deliver products that allow people to perform at their best.
Customized Solar Control Tech
Coming from you now at CEDIA 2022, Jentry Wittkamper, Director of Sales, Draper talks to MarketScale about the introduction of new market solutions tailored to meet the needs of any business. Draper, Inc. is a go-to resource for innovative audiovisual, solar control, and gymnasium solutions.
Sony Group, Thoughts on The Future of Pro AV
Rich Ventura, Vice President of B2B, Sony talks to MarketScale about where he sees the future of Pro AV headed in the industry and what his favorite part is so far at CEDIA Expo 2022. Sony Group is primarily focused on the Electronics, Game, Entertainment, and Financial Services sectors.
Modus VR and Utilizing Visualization Tools
Patrick Higaki, Director of Sales, Modus VR talks to MarketScale about how Modus is using visualization tools in the residential space to help illustrate technical concepts to stakeholders and customers alike.
Innovative Display Resolutions

Taft Stricklin, CEO & Founder RS Pro Sales & Just Add Power talks to MarketScale about the release of new display resolutions in the space. Founded in 1992 by three employees of IBM who were happy to shed their dark suits and red ties, Just Add Power is dedicated to doing tech a little bit differently. Instead of being consigned to the dustbin by planned obsolescence, the company's high-quality Video-over-IP Distribution solutions increase in value over time. Whether it's an unlimited matrix of sources and screens, a video wall, or an architectural installation, our revolutionary design philosophy makes it simple to create an AV system that rocks.
Crossovers in Pro AV Technology
Ryan St. John of Legrand talks to MarketScale about how those in the B2B space are gaining visibility to how Pro AV solutions apply to their own personal residences. Legrand, North & Central America, one of Legrand S.A's largest subsidiaries, is the global specialist in products and systems for electrical and digital building infrastructures.
Investments in Home AV
Jim Garret from Harman talks to MarketScale about how new investments in home AV have catapulted over the past few years.
Personalized Smart Energy Management Solutions
In the latest update from CEDIA 2022, George Katsiris, General Manager Professional, Smart Home, Savant Systems, talks to MarketScale about their exciting new partnership launch, their newest video wall technology, and their new music service integration with Apple Music. Savant partners worldwide with leading integration professionals, designers, and builders, and is currently providing smart home features to more than 2 Million homes with integration and connectivity across nearly 10,000 unique protocols, devices, and leading music streaming services.
Latest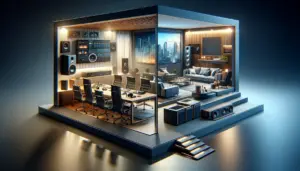 November 27, 2023
In this episode of "Pro AV Today," host Ben Thomas sits down with Audra Kinsley of Sonos Professional to unpack a topic that's causing (sound) waves in the audio industry: the fusion of commercial and residential audio systems. As we navigate through a landscape where consumer and professional audio worlds are increasingly intersecting, Sonos steps […]
Read More