Content and Collaborative Technology are One in the Same with Tom Spearman & John Melillo of Diversified
The world of collaborative technology in the workplace is growing before our very eyes, and the Pro AV industry is set to capitalize on this in a pretty unprecedented way. Where as before, digital media existed as a tool to entice external viewers, it's now a powerful tool internally as well. Huddle rooms and video conferenceing technology is creating a perfect, authentic medium for digital content to hit employees, and when the technology grows, so does the quality of the content, and vice versa.
On today's Pro AV podcast, we spoke to two thought leaders at one of the biggest Pro AV companies in the industry: Diversified. Tom Spearman, Executive Vice President, and John Melillo, Senior Vice President of Digital Media, explained on the podcast how their worlds are colliding for the better. Interactive digital signage and meeting rooms are now showcases of a company's most exciting milestones in content form, driving engagmenet from staff, reputability in the eyes of clients, and esteem in the eyes of competitors. Give the podcast a listen for a deeper dive from Spearman and Melillo on what kind of content is selling best, and tangible ways companies are utilizing this intersection of emerging tech and methodologies.
"So you're walking through this whole lobby environment where you're getting all this exciting information about eBay and everything they were about and what they're doing. So that's good for both employees and for the external publics who come to this facility," Melillo said. "Now you're into this large room and then it transcends and it carries through to a lot of smaller meeting spaces. So it's all these touchstones that we look at as the bits of communications that creates this whole environment of 'Enterprise Theater.'"
HIGHLIGHTS FROM THE EPISODE
Daniel Litwin: Why do you think that this merging of content and platform and this idea that collaborative technology is the now? You know, it's not the future, it is the now of the modern workplace. Why is this important when looking at the worker experience and how is the worker experience changing how has it changed, you know, over 2018 and how should we continue to see it changing in 2019?
Tom Spearman: Great. So Daniel, let me try to answer that one for you. I believe that enterprise organizations are doing to enhance the technology in the workplace is really driven by what their employees' expectations are. I have two sons who are college age and so we are going through the process of doing the college tours and trying to help them make a selection, right? So colleges and universities figured this out quite some time ago and use technology-enabled spaces in their university centers and in their classrooms and in their collaborative spaces, in their libraries to attract new students.
So these students go through four years of having this experience with a modern technology-enabled teaching institution. They graduate, and whenever they're being recruited by these different organizations who are looking for the best and brightest, they have an expectation that the conference rooms are going to have great technology in them, the common spaces and break areas have dynamic digital signage that's engaging.
And so it's actually used as a recruiting tool by large corporate enterprises who want to attract and retain the best and brightest students rolling out of these colleges. And if you don't have that technology in it, you're handicapping yourself in terms of your ability to attract the next gen worker.
John Melillo: Tom brings up a great point. I mean, in the old days we used to call it a lot of distance learning and colleges had been using this technique for years to expand class sizes, meaning that the professor might be in one lecture hall and they might have multiple lecture halls going because that particular course, that particular lecturer is very sought after. So it gives an expansive situation. So you take it from there years ago into what Tom is talking about. And I got to tell you, I think he's right on the money. A lot of people young people are making those choices to go to university based on technology and I think rightly so employees are looking at how corporations are using technology to expand their work environment.
I also like to think of it as it has a couple of factors for business. It's a cost saving and it is a good recruitment tool. If I am raising a family here in Jersey but my teammates are spread out around the country, if I don't have to leave my family for live meetings where I have a direct interface both relationship growth and also moving our materials back and forth in a live environment, that's an inducement for me to stay with a company. We're not getting very many employees that just want to jump on an airplane and go to live meetings. It's a waste of time for the company and it's not an inducement for the employee to be with that organization.
Obviously, live events are very important then become even more important the more technology is employed in a daily basis. I see that growing ever more especially as companies are growing globally much easier to work with your team that's spread out not only around the US but around the world by bringing them into a Skype meeting, by using Zoom, by using all these other collaborative techniques to join us together.
DL: And I mean I feel like it's reflective too of just the more social idea of we want our companies to be reflective of, if we want our company to be global, then we want our workforce to have a global presence and to be in Australia, in the United States, in England, in India, you know, and really spread out, plant those flags and expand the offerings on a global scale. And so if technology like video conferencing even something as simple as Skype for Business, if that is going to empower that, then why shy away? You know, it should be an investment that companies are excited to put money into. Is that what you're seeing or you're still seeing some companies draw hesitance to riding this wave even though it is becoming a more ubiquitous thing across the map?
JM: I think Tom would have a better answer for that. I mean, I'm seeing the growth of it being in the media side of the business, but his teams are doing some monumental work in building out the huddle room format. He brought it up at the beginning. In the early days, you were building a single, very expensive video conference room. Okay, I booked video Conference Room 1. Now people booked a huddle room for all meetings whether they're using the technology or not because it's that affordable. And most companies are just building out every conference room with that ideology that it's there if you need it as a business tool.
TS: I would say that there's widespread adaption. The people that are making decisions about how to outfit their conference and collaboration spaces in corporate America have embraced this idea now. And we're past that tipping point. I think it goes beyond that though. You know, I think that people are looking at new ways of innovating, given the technology sets that they have in these spaces, right? So we focus a lot of our conversation on, you know, having a camera and a microphone and some type of collaboration platform present in a room. But you know some of the trends that I'm seeing is really kind of towards what John does and what John's team has done kind of in the retail space to create customer engagement. We're seeing that in the corporate space as well.
So instead of a flat screen in a collaboration room just being dark when they walk into the room. They're thinking outside of the box and they're saying, "Hey, we have 60 conference rooms and each one of them have some type of display technology in it. Why don't we use that to convey corporate messaging kind of all the time?" So they will use it as a dynamic digital signage end point so when someone walks in the room, the first thing that they see is something about what's going on inside of the corporation, making announcement about company's successes, trying to build morale and build customer engagement using the kind of 30 to 90 seconds that they have when they first walk in the room or trying to kind of get their computer connected up to the system, et cetera. And whenever they connect, the digital signage goes away and their contact comes up and they roll forward with their meeting. But that's one of the ways that we're seeing enterprise customers leverage electronic branding to create a more dynamic environment that's more fun to work in. And the benefit of the company is it's getting some kind of periodic messaging in front of the eyes of their team member. So I find that interesting.
For the latest news, videos, and podcasts in the Pro AV Industry, be sure to subscribe to our industry publication. A new episode of the Pro AV Show drops every Thursday.
Follow us on social media for the latest updates in B2B!
Twitter – @ProAVMKSL
Facebook – facebook.com/marketscale
LinkedIn – linkedin.com/company/marketscale
Latest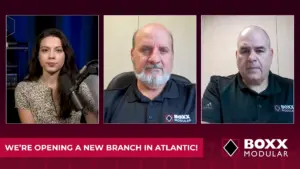 December 4, 2023
In an era where construction innovation is reshaping the industry, modular construction's growth continues to rise. In this episode of Built Modular, Boxx Modular's strategic expansion into Moncton, Atlantic Canada takes center stage. Host Gabrielle Bejarano welcomes Charles Landry and Ray Girouard to explore the implications of this venture. Bejarano, Landry, and Girouard discuss […]
Read More