A Creative and Fun Marketing Approach to Pro AV? That's How the CI 40 Under 40's Do It.
Is the secret to becoming a 'CI 40 Under 40' the ability to take a creative and fun marketing approach to AV and engineering? One such newly crowned member of the class of 2023 thinks so.
Commercial Integrator recently unveiled its prestigious "40 Influencers Under 40, Class of 2023" list, honoring standout individuals propelling the AV industry forward. This year marks the 10th iteration of this eagerly anticipated annual editorial. Unlike preceding years, the 2023 edition welcomed nominations from vendors and distributors, broadening the scope of recognition. The list highlights remarkable young professionals in their 20s and 30s across various AV industry sectors. This initiative underscores the rich talent pool within the AV community, celebrating the innovators shaping the industry's future​.
What does it feel like to be named a CI 40 under 40? Izzi Demara, a Marketing Manager at RoomReady, received a Class of 2023 induction. Demara shared insights on her experience being named a '40 under 40 Commercial Integrator' and her cutting-edge creative approaches to content creation, especially on social media, for the AV and engineering sectors.
Izzi's Thoughts
"It feels really cool, kind of surreal. I am still newer to the industry. I've only been in AV for two years. So, I feel a little bit of imposter syndrome, but excited to be here and to be among such a great 2023 class.
Some of my work in marketing is creative. So, a lot of my content creation, I try to think outside of the box. I am a younger person. So, for me, I'm a big fan of short-form video, smaller articles, not so much the white papers and case studies, and very like traditional corporate marketing. And so, I think kind of my approach to what I do here at Room Ready is, okay, how do we make content that is engaging, fun, and easy for someone to understand and consume?
I think that's kind of where I've made a lot of strides in the industry is that I came in from an athletics background, a sports background where media and content was always fun and energetic. And I've kind of applied that to AV and engineering. And I think a lot of times, AV, engineering, you start talking about electrics, line drawings, it can be pretty dry, but it's super, super interesting stuff. It's just how you communicate that and that you communicate the value; it needs to be engaging. So, I think that's kind of where I've thrived so far in the industry.
The way that I've been doing things is just not a normal like AV approach or a corporate approach. I think I'm looking at things, I'm like, hey, this is really interesting. Let's make it sound interesting and fun because it is."
Article by James Kent
Latest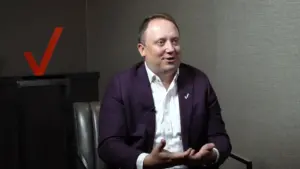 December 1, 2023
For a special episode of The Verizon Partner Network the focus was on the considerable role of partnerships in the Verizon Partner Program and the leaders shared their perspectives on the initiative. Their conversation brought about a lot of thought-providing context on the evolving telecommunications landscape. In today's era, collaboration and integration are key to […]
Read More