How Digital Signage Is Playing a Critical Role in Combating COVID-19
For some time now, digital signage has been reinventing the customer experience, impacting marketing strategies like never before and helping boost sales and supplement a company's revenues in creative and imaginative ways.
From vibrant displays that quickly catch the eye and draw in consumers more effectively than static signage to transforming long queues into infotainment settings that reduce perceived wait times, digital signage has provided businesses with reactive, data-triggered control that allows for instantaneous updating of their advertising at a moment's notice.
Digital communications enable companies to shift from a one-size-fits-all approach to messaging that can be personalized to a specific audience's needs and desires at just the right time while gathering quantitative data that delivers useful, exploitable consumer behavior analytics for better marketing campaigns.
Now, during the COVID-19 pandemic and as we collectively move toward a new normal, where many companies were forced to shut down, grocery stores were compelled to implement social distancing requirements, and hospitals were overwhelmed by coronavirus cases, digital signage has been employed to help facilitate and inform when the world needed it most.
Digital Signage Proves Indispensable During Pandemic
For businesses that remained open over the last two months, such as supermarkets, healthcare facilities, government offices, pharmacies and more, digital signage played a unique role in communicating security and prevention measures, repetitively disseminating important health and safety content in real-time to help keep frontline employees and customers safe during the COVID-19 crisis.
Interactive wayfinding stations helped to direct visitors, patients and families to their intended destinations through hospital and government halls more rapidly, enhancing social distancing efforts and reducing time spent searching while eliminating the need for paper signage and human interaction.
Queue management tools allowed grocery stores and other businesses to optimize customer flows while reporting estimated waiting times that allowed patrons to move around within or outside of a location to avoid long line pileups. Digital signage integrated with a store's POS also enabled these establishments to advertise the availability of and purchase limits on much-needed products such as toilet paper, bottled water and hand sanitizer, helping to reduce both crowd influx and customer frustration.
For retailers and other businesses that were required to close during the pandemic, digital communications provided a unique channel for these companies to stay in touch with their customers. From ads that directed consumers to their online sites and sales to helpful content such as recommended CDC safety precautions and measures to reduce the spread of the coronavirus and even calming messaging that helped to soothe seething fears surrounding the crisis, digital signage offered a glimmer of hope during the worst of times and a glimpse of what can be expected as businesses begin to reopen.
Digital Signage's Role in the New Normal
As the world looks forward to a return to normalcy, it's anticipated that the function of digital signage will expand well beyond its pre-COVID-19 role.
In fact, smart signage solutions are already being created that integrate precision AI systems for counting people to ensure capacity management, leverage infrared temperature sensors and advanced algorithms to calculate heat signatures and detect abnormal temperatures, and utilize biometric systems for facial or corporal recognition to help identify whether an individual is wearing a mask or if social distancing is being kept.
Further, touchless kiosk displays will enable contactless check-ins at hospitals, ERs, clinician offices, restaurants, hotels and more.
At a time when information is more vital than ever before, digital signage has been pivotal in broadcasting content that has helped keep healthcare providers, employees and consumers safe while providing an audiovisual medium that has helped closed businesses keep their customers both engaged and purchasing while they wait to reopen the front doors.
—
Click here to read the entire article and to learn more about the Digital Communications solutions offered by Omnivex.
Latest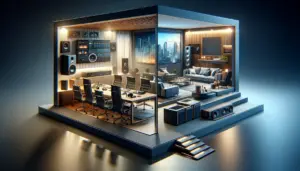 November 27, 2023
In this episode of "Pro AV Today," host Ben Thomas sits down with Audra Kinsley of Sonos Professional to unpack a topic that's causing (sound) waves in the audio industry: the fusion of commercial and residential audio systems. As we navigate through a landscape where consumer and professional audio worlds are increasingly intersecting, Sonos steps […]
Read More