Living Live: How to Adapt Emergency Broadcast Plans to New Challenges
On this episode of Living Live with Ross Video, host Tyler Kern was joined by Jenn Jarvis, Ross Video Product Manager for Editorial Workflows, to discuss a familiar topic for anyone in the live production industry – adapting to abrupt changes and challenges.
It's a mainstay for live productions of all kinds – when obstacles present themselves, there's no time to panic. Instead, efficient, agile live productions adapt, moving forward and finding a solution.
But that's easier said than done.
"I think most broadcasters have emergency plans in place, but most of the time those are specific to things they've experience before," Jarvis said. "So, perhaps a natural disaster. … At least in our lifetime, we haven't experienced something of this nature. So, it is exposing some weaknesses in some of the plans that we had previously built.
"What I think it's really teaching everyone is that a lot of the plan that they've built to allow people to work outside the station or operate outside of a physical broadcast facility were really around their live talent."
Instead of focusing in on that live talent, Jarvis said the contingency plans of the future will need to account for a way for everyone with a role in the news workflow to work remotely – and likely for a much longer period of time.
Best practices for ensuring that kind of preparation happens, Jarvis said, include special attention to efficient, future-proof and scalable workflows during normal operation that are more resilient, developing innovative communication strategies, shoring up remote accessibility, and more.
Subscribe to future episodes on Spotify and Apple.
—
Transcript:
Tyler Kern:
In production environments, things can change in an instant, whether it's inclement weather or global pandemics. You have to have plans in place to make sure that you're prepared to continue moving forward as a news agency or just as a production environment. And so joining me to talk about that today is Jen Jarvis, she's the product manager for Editorial Workflows. Jen, thank you so much for joining me today.
Jenn Jarvis:
Thanks for having me.
Tyler Kern:
Absolutely. So Jen, right now we're kind of in the midst of the Coronavirus pandemic, which has caused a lot of people to reevaluate exactly how they do what they do when it comes to production. From your perspective, what have you learned from this situation and what do you think the big lesson and the big takeaway from this entire pandemic has been in the case of news workflows?
Jenn Jarvis:
Well, I think most broadcasters have emergency plans in place, but most of the time that's specific to things that they've experienced before. So perhaps a natural disaster depending on the part of the world that you live in. It could be a hurricane, tornado, blizzard, some type of breaking news, catastrophic breaking news. We've built plans based on what we've experienced before and at least in our lifetime we haven't experienced something of this nature. So it is exposing some weaknesses in some of the plans that we had previously built. And what I think it's really kind of teaching everyone is that a lot of the plans that they built to allow people to work outside the station or to operate outside of a physical broadcast facility was really around their live talent: reporters, anchors, presenters. How do we give them access to the equipment that they need?
Jenn Jarvis:
And that's really a very specific subset of the equipment that's used in a broadcast environment. And now we're in a whole new space where literally everyone is trying to figure out how to do their portion of the broadcast workflow remotely or from a different facility or spread apart somehow. So we're looking at pieces of equipment and parts of the workflow that we hadn't really looked at before and we're also looking at maintaining this for a much longer period of time then we've traditionally had to for breaking news or severe weather events in the past.
Tyler Kern:
I think the challenging thing about this is that moving forward, you're preparing workflows for unknown circumstances. And the tricky thing about the unknown is that it's unknown. That can be a hard thing to prepare for. So when you think through maybe best practices for preparing your workflow to continue, even during situations like this, what do you think are some best practices or things that people should be considering or thinking through now for the next such instance? Even if it looks different than Coronavirus looks now?
Jenn Jarvis:
Yeah, it's impossible to prepare for what you don't know and what you haven't experienced before. But I think some of the things that help you plan and build a flexible, scalable plan that better positions you for the unknown are actually some of the same things that we talk to customers and broadcasters about just in general around their workflow. How to make your workflows more efficient, how to future proof your workflows. That's a buzz word or buzz phrase that we use a lot. So a lot of those same concepts that apply to just creating a great, efficient kind of scalable workflow in general are the same kind of concepts that actually better prepare you to be able to respond to a situation like this.
Jenn Jarvis:
Some of the things to kind of consider would be communication. How do your teams communicate? Accessibility in the sense of how can we get access to the equipment that we have if we're not physically standing in front of it and looking at that very comprehensively across your entire workflow.
Jenn Jarvis:
Another area to consider or to think about would be integration. How are the tools that we use integrated together? What is the extent to which they can work in sync without somebody manually needing to intervene and either share information or control something? Those are kind of some areas that when you really kind of sit down and analyze it and think about it and you find areas for improvement, those are things that help on a day to day basis in a best case scenario, but they really, really help prepare you for those worst case scenarios.
Tyler Kern:
Yeah. That makes a lot of sense. And one of the things that you mentioned that I think is smart is looking at during the best times, how can you prepare and how can you set yourself up so that things aren't terribly disruptive when something like this happens. I'm wondering from your perspective, just in your experience, in your years in the industry, how have you seen the needs of news organizations change when it comes to technology and from a technological perspective, just in ensuring and building workflows. How have you seen that change over the years?
Jenn Jarvis:
Well, I used to have a news manager that would joke when he would see a bunch of reporters sitting in the news room. "News doesn't happen in the newsroom. Why are you here? Go out, go out, talk to people", the boots on the ground kind of concept. And it made sense at the time from a content creation and content gathering standpoint to be out there actually talking to people, experiencing the things that we're talking about. But I think that's really gone to a whole new level, especially in the last five to 10 years for a lot of reasons. We're creating more content than ever before. So people are multitasking more. They are creating content for television, for web, for social media, sometimes for multiple brands in situations where we have duopolies or different platforms that they're contributing to. So the amount of content that we're creating, the technology that we have now to give us the ability to create from a greater variety of places.
Jenn Jarvis:
I remember a time where we used to have to plan our stories because we had to be able to get out to the site where we needed to conduct the interviews and shoot the video and get back to the station in the same day. Otherwise you're looking at a satellite truck or an ENG truck, you'd have to feed back your content and editing that content, preparing your content out in the field required a lot of phone calls, required a lot of guesswork. And really the shift over the last few years that everyone is seeing is the ability to go live from more places because of different types of technology that we have now to go live.
Jenn Jarvis:
An easier process to capture and edit and feedback live content that we're creating or edited and recorded content that we're creating. So things like mobile technology, obviously better internet connectivity has given us the capability to do that, but our need to supply content to a greater variety of platforms.
Jenn Jarvis:
Traditional television, OTT, web, social media has sort of spurred on the need for that. So we've already been thinking in this direction of how can I work more remotely? How can I do my job outside of a traditional newsroom? But like I said earlier, we've mostly thought about that in the context of our reporters, our anchors, our presenters, our live talent, our photographers. We haven't necessarily, until really the last few weeks, been thinking that in the context of who's sitting in the control room or the gallery, the producers, the directors, your graphics operators, how do we also allow for them to do their jobs without having to sit in a physical broadcast facility?
Tyler Kern:
Right. One of the things that that has struck me about this entire Coronavirus situation is the way that so many different businesses and industries have adapted and one of the things I'm curious about is when things start to go back to normal, how many things stay the way that they have been since things have been adapted and changed a little bit. So do you see any changes that have been made potentially in the broadcast news arena that maybe could stick around after this whole situation is over because they've been found to be beneficial?
Jenn Jarvis:
I do think that you're going to see those traditional in facility positions go back to being in the facility, your producers, your control room staff. Those are the types of positions that while we've figured out ways for them to do the job outside of the facility, they definitely have the most flexibility and most capabilities still if they are physically in front of the equipment that they're using. What I do think that we're going to take away from this is first of all, do we need to send a reporter to some events? So when you look at things like a press conference, traditionally you've needed to have a presence in the room and it's forced a lot of government organizations to find a way to provide the data without having a physical representative in the room and make that information available to everyone. And it's also taught reporters how to be able to submit their questions without physically being in the room.
Jenn Jarvis:
So press conferences can be a huge time suck for a news organization to need to go to that event, but also potentially need to be in other places at the same time. So I think something like that potentially you're going to continue to see this process continue and potentially events like that. I think that you're also going to see continuing conversations around things like communication. A lot of organizations are struggling to replace those hallway conversations. Those I'm walking by your desk conversations. We're seeing it in the corporate world, but we're also seeing it in the context of a newsroom. There's a lot of planning and communication that happens informally and right now we're in crisis mode, so now is not the time to establish best practices. Now is the time to just get the job done at the end of the day. So a lot of people that I've talked to who are still working in journalism and in editorial outlets, it's "We'll communicate any way we can communicate."
Jenn Jarvis:
If it's a quick phone call, text message, there may be a centralized messaging platform, but it may not always be easy to access or to use in the heat of the moment. So the communication is pretty decentralized, but right now it's just about finding a process that works. How can we make sure that we get a message from point A to point B and that may look different from person to person. Part of the reason I highlighted communication as something to really dive into and focus on is once you get back to a place where you can actually take a hard look at it and make some plans, having a centralized communication process that is accessible in a way that it can be feasible as your centralized communication platform reduces the loss of information, it creates efficiency, because it takes the guesswork out of how to get a hold of someone and it preserves the information for the future, especially within the broadcast industry.
Jenn Jarvis:
You may see turnover in staff, people moving every few years and a lot of times they take a lot of data and knowledge with them because it's contained in emails and text messages and those things don't get centralized into a searchable, shareable database. Whereas when you look at centralized messaging tools and especially tools that are integrated into the rest of your workflow, all of a sudden that data gets preserved for the future. So all of those things that don't actually make it into the on-air script, but give us context and give us background on a story. Those get preserved and they potentially become searchable as well, which is really crucial when we're looking back and trying to prepare for maybe moving a story forward or revisiting something that's happened in the past.
Tyler Kern:
Absolutely. Jen Jarvis from Ross Video. Thank you so much for joining me and talking a little bit more about preparing for the unknown events that could happen in the future. Thank you so much for educating us a little bit more on this topic.
Jenn Jarvis:
Thank you.
Latest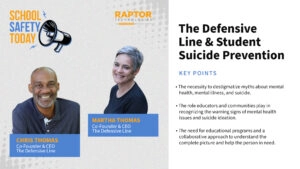 September 22, 2023
Student suicide prevention is a paramount concern among mental health providers. For one organization, student suicide prevention is more than a concern: it's their mission. The alarming rise in mental health crises among youth has become a pressing concern in recent times. With the complexities of modern life and the challenges of the digital […]
Read More