InfoComm 2023: The PoV Camera Spotlight Shines Brightly on Marshall and Its New Series of Cameras.
If one wanted to know what the latest PoV camera innovations happening in the Pro AV space, Orlando Florida was the place to be.
Quality AV was in high supply at this year's InfoComm 2023, where several suppliers got an opportunity to flex their muscles in the PoV camera space. Marshall Electronics featured four new PoV cameras with enhanced sensor technology, offering larger physical pixel sizes for capturing more light information and greater sensitivity in low-light conditions.
Todd Musgrave, the Director of Cameras at Marshall Electronics, provided some essential highlights, of their PoV camera lineup, including Marshall's new CV420Ne camera.
Todd's Thoughts
"We're here at InfoComm 2023, showing off our new PoV camera series. All of these cameras have a new Sony sensor. All of them have interchangeable lenses and are remote-adjustable and controllable. So, they're very flexible for a variety of applications, not only in broadcast production but also pro AV, courtroom, and assembly room. Anywhere you need a small high-quality PoV camera, these are high performing and affordable.
The CV420Ne is an NDI HX3 solution, also with USB and HDMI. So this is a very versatile streaming camera for podcasting, streaming, or video source over the network. So this camera with that NDI HX3 is easily discoverable over a network, low latency, controllable, one ethernet from the network switch to camera, for all functions and PoE plus.
This one's available now, and for more information, go to https://marshall-usa.com/. All the product information is there.
Article by James Kent
Latest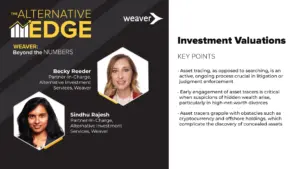 December 4, 2023
In this episode of The Alternative Edge, a Weaver: Beyond the Numbers Podcast, host Becky Reeder, an audit partner and co-leader of the alternative investments practice at Weaver, engages with Sindhu Rajesh, an Alternative Investment Services Partner with Weaver. They unpack the complexities of venture fund valuations, offering critical insights into industry dynamics and best […]
Read More