Mission Critical to Mission Accomplished: Command Centers Are Connecting Business Beyond Borders
Data knows no borders. Business is becoming increasingly globalized, implementing advanced technologies and instantaneous communication. As such, companies are developing outposts around the world. On today's episode of Mission Critical to Mission Accomplished by Constant Technologies, we were joined by Constant Tech's CTO Steve Sullivan, who discussed how and why the company is making its way overseas.
Whether it's a U.S. company dipping a toe in an international market, or a global corporation looking to set up regional centers around the globe, Constant Technologies is the mastermind behind mission-critical command centers on five continents. Sullivan explaind that behind every American client follows several foreign clients.
"Every project we have has its own challenges to work with," said Sullivan of collaborating with clients from all countries. Be it logistics, time changes, customs, country-specific certificates, or discrepancies in voltage, Constant Technologies adapts to all kinds of contingencies.
Conducting business internationally always necessitates learning the customs and traditions that are important to clients in other parts of the world, something Constant Technologies continues to do with each new client. According to Sullivan, no matter what country or industry you're in, mission-critical command centers offer an invaluable asset to global business—the ability to "monitor information and react very quickly to it."
In today's fast-paced, data-driven world, instant global communication and presence are at the core of what drives value for Constant Technologies' customers.
Latest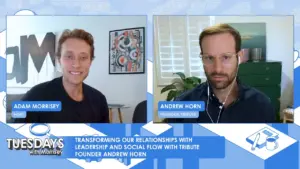 November 28, 2023
Can relationships be transformed through leadership and social flow? Navigating the intricate web of digital relationships can be a tricky proposition. Tuesdays with Morrisey's Adam Morrisey uncovers the transformative impact of emotional recognition in the workplace with Andrew Horn, the mastermind behind Tribute. This podcast edition unravels the story of a platform redefining how […]
Read More