Is Virtual Reality Making a Comeback?
Whether you're an integrator, a designer or simply a label-defying creative, the EXPERIENCE is everything. Host Bryan Meszaros explores the story behind the exhibit to understand how a carefully crafted experience traps into the human experience to connect people to place.
Virtual reality (VR) can lead to amazing experiences, but not every application really connects. Its history and future as part of an immersive environment hinge on a few things: a creative story and a physical connection. Experience by Design host Bryan Meszaros shared his thoughts on the technology.
"I participated in a retail-focused organization technology event, and the question came up around what has value and impacts the customer experience. I went with VR, but I admit I have a love/hate relationship with it," Meszaros said.
"There needs to be a reason to put on the VR goggles that compels people to interact and be a part of it." – Bryan Meszaros
Meszaros' hesitation is because its application often has no connection to the environment or user experience. As a result, he came up short in trying to describe examples of retail doing it well. However, its use in entertainment is compelling. "There is a reason to put on the goggles because there's a creative story around it, such as the VR Star Theme Park in China."
But how does VR become more than just the visual? Meszaros shared some prime examples. "There's a hotel in London with a VR cocktail. You're flying over the Isle of Mull in Scotland while enjoying the drink. It's connected to something physical and offers a sensory experience."
A restaurant in Syracuse, Spot 26, is an example of an immersive experience that doesn't require goggles. The restaurant partnered with Quantum Virtual Experiences. The themes change nightly. "It really is reality as you see it. The walls, tables, and plates come alive," Meszaros added.
Canada Gooses is a unique example of VR in a multi-sensory retail setting. Guests can "walk" along cracking ice in a -12°C room. "It's a brand experience you can feel and cleverly connects the retail experience to the brand narrative in a visceral way since you'll need its most popular parka," Meszaros explained.
Follow us on social media for the latest updates in B2B!
Twitter – @MarketScale
Facebook – facebook.com/marketscale
LinkedIn – linkedin.com/company/marketscale
Latest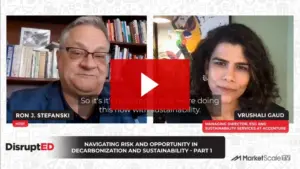 September 26, 2023
The global conversation has shifted dramatically towards decarbonization and sustainability in recent years. With the world experiencing unprecedented levels of disruption, from 5G technology to the challenges of a pandemic, the urgency to address climate change and its implications has never been more palpable. Although most business leaders see the vision of Sustainable Development […]
Read More