LOOKING AHEAD TO 2020 AND THE FUTURE OF DIGITAL COMMUNICATIONS
As 2020 looms, it's time to consider where digital communications are heading and how you can leverage that direction to stay ahead of the curve, drive engagement and influence behavior.
Digital signage and digital visual communications are critical – they are your first line of offense in a real-time world. Screens are the first things seen in public spaces and they're becoming as ubiquitous as lighting is today.
In other words, it's your first impression, and it should be a core consideration for your business.
What are challenges with traditional information delivery? How can you take advantage of cutting-edge innovations, digital agility and digital transformation? Let's dive in.
DIGITAL TRANSFORMATION'S INCREASING ROLE
Digital transformation is going to be a key factor in the advancement of digital engagement. It's right there in the name – it's all about leveraging and stretching modern technologies in ways that have never been tried. That's the essence of transformation.
But it isn't just the latest industry buzzword. It's a concrete movement toward progress and, as MIT Principal Scientist George Westerman says, "a radical rethinking of how an organization uses technology, people and processes to fundamentally change business performance."
To achieve this kind of "radical" shift, buy-in must come from the top. It's time for CEOs to spearhead an effort of cross-department collaboration, pairing business-focused philosophies with rapid application development models and tools.
CHALLENGES FACED IN TRADITIONAL INFORMATION DELIVERY
Disruption is both the largest motivator and largest inhibitor, but it's far from the only challenge associated with information delivery. In fact, a survey conducted by IDG in March of this year found that:
22% of respondents are concerned with security and access control when sharing sensitive information
20% frequently encounter technical difficulties with their current software solution
18% say information is often low-quality and/or prone to human error
14% called current methods of communicating important information outdated
Further, 44% said information is updated manually and is either cumbersome or time-consuming to digest, while 36% felt that information was easy to overlook or ignore and that it wasn't completely up to date. Ease of sharing between groups and devices was also a major concern.
When information can't be easily accessed or shared, respondents labeled security risks (58%), loss of competitive edge (50%) and inefficiency and cost increases (48%) as top concerns.
Fortunately, these concerns can be alleviated through digital signage solutions.
HOW DIGITAL SIGNAGE CAN HELP
The majority of survey respondents exhibited some familiarity with digital signage solutions. 84% were highly likely to consider these solutions to solve the aforementioned challenges.
The potential benefits were clear to respondents – 54% highlighted improving efficiency and cost management, while enhancing productivity and better capturing business opportunities to drive revenue growth each came in at 52%.
It's clear that the capabilities of digital signage are being recognized, but how can you turn that recognition into action? Omnivex can help.
We're committed to developing software that helps you take advantage of all the innovations that surround today's clever and connected devices, and our Digital Agility Framework helps us define exactly how we'll deliver on that goal.
OMNIVEX DIGITAL AGILITY FRAMEWORK
With our Digital Agility Framework, Omnivex, People, Technology Silos and Organizational Silos function as integral parts of a wider framework that includes governance and security.
Latest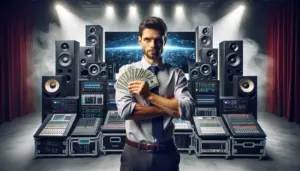 December 8, 2023
Mastering AV sales strategies in a global professional audio-visual (Pro AV) market, poised to reach $79.2 billion by 2028, requires much attention to detail. The surge in demand from corporate, government, and institutional sectors, driven by the need for enhanced productivity and efficient working environments, gives AV sales pros a lot of opportunity. In […]
Read More