Living Live: Next-Level Game Day Production
On this episode of Living Live with Ross Video, host Tyler Kern was joined by Ross Video Director of Global Sports and Live Events Kevin Cottam.
Kern and Cottam centered their conversation on a key trend in the world of sports – the persistent growth and elevation of the in-home viewing experience, its impact on in-person, live sporting events, and how teams and leagues can elevate their fan experience and engagement strategies to wrestle control back from in-home options and innovations.
Specifically, Cottam highlighted how game day production at the event, itself, can bring fans back into arenas and stadiums across the globe.
"There's a huge push to engage fans in that overall experience. … You've got your traditional production control room, where you're cutting different cameras and showing different replays and things like that, (and) you're showing statistics" he said. "And they would be different statistics and different camera shots (than) a typical broadcast would provide."
Essentially, it's critical to think about how staff can engineer a production specifically targeted at fans in the venue, then about how that production can be presented through cutting-edge LED displays and more.
The integration of more broadcast-centric equipment and AV solutions can also help, providing a cohesive, integrated system that provides consistency across productions and a simple way to ensure teams and stadiums are using cutting-edge technology to the best of their ability.
For the latest news, videos, and podcasts in the Pro AV Industry, be sure to subscribe to our industry publication. A new episode of the Pro AV Show drops every Thursday.
Follow us on social media for the latest updates in B2B!
Twitter – @MarketScale
Facebook – facebook.com/marketscale
LinkedIn – linkedin.com/company/marketscale
Latest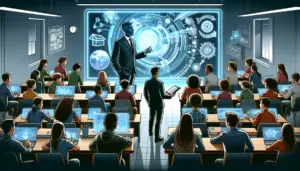 November 27, 2023
In an era where education stands at the crossroads of tradition and innovation, the potential value of thought leadership becomes the guiding star for progress. "Just Thinking" dives into this potential with host Kevin Dougherty and guest Evan Edwards, a Professional Learning Specialist at 806 Technologies who exemplifies the transformative impact of visionary guidance […]
Read More