How to Purchase An LED Video Wall Display
The sales market of LED displays is on fire. More and more organizations are incorporating LED video wall displays into their studio, corporate environment, university, or not-for-profit homebase. While there are many reasons to be excited about your LED fixed installation investment, it pays to consider factors such as product, environment, installation, and maintenance.
Neoti is here to help you through the planning and creation phase to make sure your lobby or corporate environment creates that "Wow" factor for your guests.
STEP ONE: Consider the Purpose of Your Display
As you begin dreaming about your newest LED display, there are several questions you will need to ask yourself:
What is the purpose of my LED display?
Will that purpose change in the future?
Do I need UHD now? Will I need UHD in the future? Pro Tip: There are scalability capabilities when choosing Neoti. For example, if you buy the cabinets with HD panels and later decide you want UHD, sometimes you can keep the cabinets and update the modules later.
Is my building going through renovation now or in the near future? Pro Tip:Neoti can install a rental in the interim and a permanent install when your new studio or building is finished.
What will be displayed on my screen? Simpler logos may not require HD or UHD video walls. Is your screen for a broadcast studio? In this case, refresh rates are very important. Talk to your LED partner about what content you want displayed and your LED partner should be able to match you with an appropriate product. Neoti always works with the customer to determine what product is best for the customer's content and budget.
STEP TWO: Implementation
Turning to eye-catching LED display technology to amp up your corporate environment is a great decision. Now, it's time to order and implement. When you're ready to invest in a fixed install display, or add more products to your space, we invite you to rely on Neoti's many years of LED display technology experience.
Neoti will help you plan and install your LED video wall. Neoti considers the environment the video wall will occupy. We carry products that can be mounted directly against a wall as well as cableless or cabled options. Will rigging fixtures need to be built? Qualified Neoti techs can walk you through every step of the process.
STEP THREE: Follow Up
Don't work with any LED sales team without talking over maintenance and training. Your LED display will only be a total success with the right training and a long-term maintenance plan. Think ahead to how you'll handle repairs, should they become necessary. Our screens tend to be low maintenance, and with Neoti being locally based we can respond quickly to repair needs. That means there's no shipping overseas or waiting on call-backs that never seem to come. We can even train you to do some of the more common repairs yourself, saving on cost and downtime.
Work with the Best
Neoti is here to help you find the right display to create the perfect video wall production no matter what your LED display needs may be. Whether indoors or out, mounted on a stage, freestanding, or against a wall, there are a variety of solutions that can help you realize your dreams.
Read more at neoti.com
Latest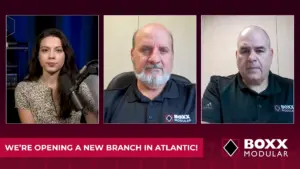 December 4, 2023
In an era where construction innovation is reshaping the industry, modular construction's growth continues to rise. In this episode of Built Modular, Boxx Modular's strategic expansion into Moncton, Atlantic Canada takes center stage. Host Gabrielle Bejarano welcomes Charles Landry and Ray Girouard to explore the implications of this venture. Bejarano, Landry, and Girouard discuss […]
Read More