Retail Leans On Programmatic Advertising To Deliver Directed Ads In Real Time
Thomas Curvelle, a programmer at HiveStack, shared the marketing technology company's development of a programmatic advertising campaign for Nordstrom Rack that targeted digital out-of-home devices. The results were very impressive.
"We're bringing programmatic advertising, like Google double-click, to the out-of-home world," Curvelle said, "meaning you can now target audiences, specific demographics, and retarget them to deliver ads programmatically based on where they are and concentrations of people. We do this by tapping into mobile data streams to get the concentrations of people.
"Right now, we're running an ad campaign with Nordstrom Rack, running on Lamar Digital Billboards. Nordstrom Rack came to us and said, 'We're opening up a new store in Lancaster, PA, and we want to target people going to our competitors' stores, like Marshalls, CJ Maxx, Kohls.' We went into our software, geofenced these areas, and looked back at the past three months of mobile device id's that were entering into these locations. This enabled us to get an idea of who was going to these competitor stores so that we could retarget these device id's as they drove down the highways or walked past digital mediums. What this allows us to do is programmatically deliver ads to the boards that have the highest concentration of people within your targeted demographics.
"First, what we do is we start off with control groups—people who are always going to Nordstrom Rack no matter what, whether they are exposed to an ad or not. We take our target demographic, our targeted audience, and we see people that are exposed to these digital boards but not exposed to the ad, and then observe them going into Nordstrom Rack. We then compare that to the people that were exposed to the ad and then went into Nordstrom Rack. In this particular case, so far with this campaign we noticed a 38% increase in foot traffic into Nordstrom Rack for people that were exposed to this ad. Which is insane. We now have a fully measurable system to see exactly how effective an ad is.
"Moreover, we have something called 'stolen impressions' where we're analyzing the data afterwards, checking to see if the people in our targeted demographic who were exposed to the ad went to Nordstrom Rack but didn't return to the competitor stores. Which is pretty good, if you're looking at margins. All of this is driven through our intelligent ad server. It does all the math, all the hard work, determining what to play where and when."
With one out of every three customers being new customers in the Nordstrom Rack campaign, it's clear that companies looking to target out-of-home shoppers on their digital devices would do well to take advantage of HiveStack's programmatic advertising.
Latest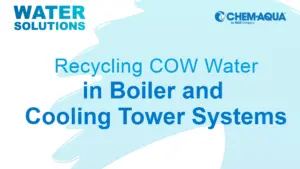 December 7, 2023
For the latest episode of ChemAqua's Water Solutions podcast, the focus was on an innovative approach to water conservation in the dairy industry. The show examined the potential of reusing Condensate of Whey (COW) water, a byproduct of dairy processing, and highlighted some of its economic and environmental benefits. Hosted by Dani Waddell, the informative […]
Read More