Mission Critical to Mission Accomplished: The Effects of COVID-19 on the Mission Critical Industry
President of Constant Technologies Brad Righi knows the mission-critical industry isn't immune to the COVID-19 pandemic's challenges.
As Righi pointed out, while many employees have worked remotely during the pandemic, mission-critical centers are the nerve center of businesses and must operate 24/7.
"The unique challenge for us to guarantee uptime and, at the same time, not have full access has caused us to pivot our service department to ramp up our remote diagnostic and support teams," Righi said..
"We typically perform on-site," he said.
Constant Technologies has supplemented solutions with lots of videos and remote troubleshooting to ensure clients have complete uptime during the pandemic.
Adapting and changing to meet the needs of the pandemic also means pivoting with the client's needs. Righi knows the key to Constant Technologies' success lies in its client partnerships.
"The pandemic gives most of our clients a chance to take a fresh look at office space in general and they may close certain buildings and relocate their operations center," Righi said.
And Constant Technologies will work with its clients to create the right location, space planning (including provisions for social distancing) and the correct technical solutions during and after the pandemic.
What does Righi think the future of mission-critical environments might look like after the pandemic is over?
"I always envision, even in the future, the actual operations center still being within a brick and mortar building," Righi said. "What I think will change is the security and the information shared in and out of that room for remote viewing"
Be sure to subscribe to our industry publication for the latest news, videos, and podcasts in the ProAV Industry.
Twitter – @MarketScale
Facebook – facebook.com/marketscale
LinkedIn – linkedin.com/company/marketscale
Latest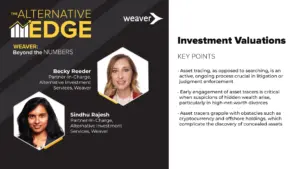 December 4, 2023
In this episode of The Alternative Edge, a Weaver: Beyond the Numbers Podcast, host Becky Reeder, an audit partner and co-leader of the alternative investments practice at Weaver, engages with Sindhu Rajesh, an Alternative Investment Services Partner with Weaver. They unpack the complexities of venture fund valuations, offering critical insights into industry dynamics and best […]
Read More