The Road Map for the Future
With the return to in-person trade shows comes the excitement of witnessing technological advances firsthand. Aurora Multimedia, a company dedicated to changing the topology of AV, participates in many of these events, like the Integrated Systems Europe show in Spain on May 10–13. In this episode of Cutting Through, host Tyler Kern spoke with Aurora's CEO, Paul Harris, about their new products rolling out this year.
One such product is a new AV over 1G IP solution — a true industry first — that employs a soft version of the technology inside the core engine with no moving parts and no fan. Harris explained, "The most exciting is the VPX. For those that know our products… they know of the IPX, which has our 1G and our 10G, but now VPX puts it right in the middle, but it's a high-performing product. It is a 4K60 4:4:4 over AV over IP product that uses only eight watts of power."
Harris also spoke briefly about the DTX and RXT series before disclosing a few teasers of what's still to come in 2022, like the DIDO series they're bringing back. Developed almost 20 years ago as the first real-time image rotation engine on the market, DIDO lived for about 12 years before dying because the tech became too difficult to support. To not spoil the fun with all the details, Harris promised "it will be even more amazing than the original generation."
Another exciting rollout is the ASP 42, but he only divulged two features for that one, including capture capabilities and the ability to plug the devices directly into the computer.
Visit Aurora to learn more and keep apprised of the company's future trade show events.
Latest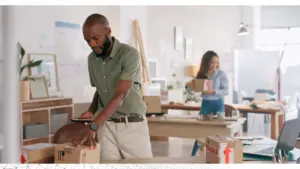 November 29, 2023
While the logistics industry often gravitates toward cutting-edge technology, Wesley Boyce, an Assistant Professor of Practice in Supply Chain Management and Analytics at the University of Nebraska-Lincoln, brings to light the enduring significance of radio communication. In a world enthralled by digital innovation, he argues that the simplicity of radios could be their greatest […]
Read More