A Look Back on 20 Years of PLAYTIME
Play is a critical component of children's overall development. PLAYTIME has a long history of understanding the role of imagination, movement, and socialization inherent in play. As the leader in creating functional play environments with architectural accents and customized theming, PLAYTIME is proudly celebrating 20 years of innovation in play environment design.
An Idea Is Born
PLAYTIME began in 1998 when Mike Evans heard about an artistically designed play structure that looked like an iceberg, located in a Florida water park. He thought the idea would translate well to indoor play spaces, especially shopping malls. Using his already established connections with retail centers, he successfully launched several initial projects. Says Evans of the Cherry Creek Mall launch: "They were a pretty creative team themselves. Most of our customers just refer to us for all the creative ideas, but this forward-thinking group looked ahead and said, 'We think it's not only going to be good for the center, the look of the center, but as a family amenity.'" And the seed was planted.
Early Success
In less than four years, PLAYTIME would go from 5-6 projects a year, to 50-60 annually. While the success seems explosive, Evans explained that, like most things, it happened "one step at a time." He added, "You just do a good job by your customer; if something doesn't go right, you make it right and keep those customers for life. And before you, know it, you're going from walking to running." This considerable growth occurred around the turn of the Millennium, on the edge of the internet boom, and that's when McDonald's called, and LA Fitness followed suit. Soon PLAYTIME was keeping kids happy in healthcare facilities, fitness centers, and multiple other locations spanning six continents.
Heads Up Play
PLAYTIME listens to what their customers want, while also bringing expertise to the table. According to Evans, the idea is to find a fit for the client concept and to make sure the theme "doesn't feel like an afterthought." In addition, PLAYTIME is focused on heads up play. While technology has its place, the creative team at PLAYTIME designs experiences that inspire kids to look up from their phones or tablets and get busy moving and interacting. For Evans, one of the most exciting moments is when he sees a child on a piece of their play equipment "look up, interact with a kid they've never seen before…. and [soon] they are running around having a great time."
Customization is Key
PLAYTIME designs play spaces in a variety of environments from several types of materials. The task of the mold and casting department is to craft new elements out of a combination of ingredients, artistic experience, and the latest mechanical technologies. They use diverse materials, including plaster, urethane, fiberglass, epoxy, silicone, and more. PLAYTIME works closely with clients from initial concept and product design through the creation of high quality molded elements. Throughout the process, they maintain an unwavering commitment to quality, on-time delivery, and customer service.
The Role of Technology
In an automated culture, PLAYTIME continues to create immersive environments encouraging physical activity. Evans explains, "While we will enable technology…. it will be a physical [component]." The overgrown kids on the design team keep looking for fun ways to create technology in spaces that urges children to continue to move. For example, one of their latest ideas is a display across an enclosure wall in which each child's movement is mimicked by an on-screen shadow. Evans further states, "From a distance, everyone can see it, everyone is immersive in this. And if you've done it in a way that it's encapsulated within our playground, and it's traditional heads-up active play, then it fits (with the PLAYTIME mission)."
Since the turn of the century, PLAYTIME's play systems have expanded across six continents, reaching hundreds of thousands of children each year. Their ability to listen to customers and design play spaces that fit each business' unique concept has earned them a reputation as the global go-to standard in the industry.
Learn more here about the innovative play possibilities at PLAYTIME.
Read more at playtime.com
Latest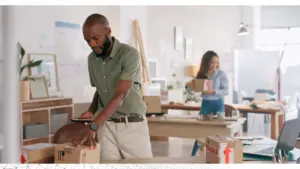 November 29, 2023
While the logistics industry often gravitates toward cutting-edge technology, Wesley Boyce, an Assistant Professor of Practice in Supply Chain Management and Analytics at the University of Nebraska-Lincoln, brings to light the enduring significance of radio communication. In a world enthralled by digital innovation, he argues that the simplicity of radios could be their greatest […]
Read More