Composite Use is Improving Public Rail Transportation
Composites are increasingly being used in the transportation industry due to an expanding emphasis on finding materials that are lighter, stronger and with the ability to withstand a wide variety of harsh conditions. This unique combination of properties makes composites ideal for improving the efficiency of rail transportation for many reasons, and MVP can help this industry and more with the application of these materials.
The Pressure to Lighten the Load and Improve Aerodynamics
Rising fuel costs have resulted in even greater demand for weight reduction and sleeker aerodynamics, putting rail manufacturers on track for extensive use of these materials in equal measure. High speed commuter trains also have a tremendous impact on the rail system itself. As François Lacôte, Senior Vice President, Technical Department of French manufacturer Alstom, puts it, "The higher the speed, the heavier the impact on infrastructure."
The Benefits of Composites in Rail Applications
Composites offer many benefits for rail applications. Primarily, composites offer high strength/ high stiffness to weight ratios, resulting in lighter trains without sacrificing durability and performance. In addition, their low thermal conductivity delivers further savings due to decreased energy consumption by air conditioning systems. Composites also deliver excellent corrosion resistance, which can improve service life and reduce maintenance costs. Additionally, composites lower vibration and noise level, creating a better passenger experience. Finally, by reducing the number of parts required, composites decrease complexity for manufacturers, allowing for easier fabrication.
Composites Can Be Used Throughout Railcars for Improved Operations
The most obvious use for composites is on a train's exterior panels and superstructure, such as aerodynamically contoured composite front ends, or "noses", which are used to reduce air resistance and will, therefore, increase fuel efficiency in high-speed trains. However, in the very near future, these materials will be increasingly used on primary structures and mechanical components as well. In fact, the use of composites for complex air inlet shapes and curvatures that alleviate aerodynamic noise when drawing in outside air is already being adopted. Composites can also be used for interior trims such as window and door frames, and for furniture and fixtures, including side panels, roof panels, doors, and flooring. Even durable, easy-to-install modular toilets are gaining popularity for use on passenger trains. It's apparent that every application provides another opportunity for weight and cost savings through the use of composites.
Magnum Venus Products Can Help with Composite Application Equipment for Rail
Magnum Venus Products (MVP) is the premier manufacturer of composite application equipment including pumping systems, spray guns, filament winding systems and much more. MVP is proud to serve manufacturers in rail systems, as well as a variety of other industries including automotive, aerospace, oil & gas, and wind turbines, to name just a few.
MVP. Customer Focused. Product Driven.
To connect with an MVP distributor in your country, visit http://www.mvpind.com/mvp-international/.
Latest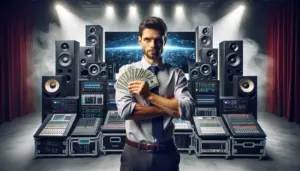 December 8, 2023
Mastering AV sales strategies in a global professional audio-visual (Pro AV) market, poised to reach $79.2 billion by 2028, requires much attention to detail. The surge in demand from corporate, government, and institutional sectors, driven by the need for enhanced productivity and efficient working environments, gives AV sales pros a lot of opportunity. In […]
Read More