Amazon Calls On Startups, Small Businesses to Help With Shipping Burden
Amazon Inc. is looking to help new entrepreneurs in the shipping industry in its latest efforts to curb the overwhelming number of products going through its warehouses every day. A report released by Sanford F. Bernstein estimated an incredible 1.6 million packages are being shipped through Amazon daily. Rather than continuing to rely on traditional big shipping partnerships, Amazon is now focusing its sights on the future– with drones, cargo plane leasing, and American entrepreneurs are at the forefront.
The online retail giant's plan to relieve some of its shipping burdens is a direct investment into the American workforce. The company can, with as little as $10,000 startup costs, provide shipping companies with discounted vehicles, fuel, insurance, uniforms, and access to Amazon's sophisticated delivery technology. This move can bring tremendous opportunities for independent contractors to benefit from a mega-company like Amazon's resources—with a 40-man operation generating $300,000 a year under this program.
As the company and its CEO Jeff Bezos have been under fire from President Donald Trump recently, citing undercharging for shipping between the United States Postal Service and Amazon, this program gives Amazon more control over shipping. Although the company still primarily relies on their big-three partnerships with the USPS, United Parcel Service, and FedEx, independent contractors are becoming imperative in meeting shipping demands.
This is not Amazon's first time contracting shipping work. Amazon's Flex startup initiative, already in place in certain regions, uses individuals to ship packages and produce in the comfort of their own vehicle—similar to an UberEats platform. With pay as much as $25 an hour, Flex incentivizes people to ship products efficiently and continues to broaden its reach into the era of personal delivery services.
Latest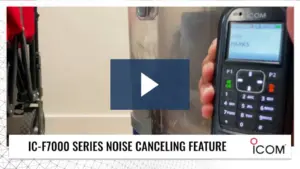 September 27, 2023
In this brief product demonstration video, ICom's IC-F7000 Series receives a mic test of its noise-canceling feature. Through the two demonstrations it is clear the IC-F7000 removes loud ambient noise for clear two-way communication.
Read More