Can Malls Sustain Increased Traffic and Profits Post-COVID?
Simon Property Group, the largest mall group in the U.S., reported higher than expected profits in Q1. One reason, according to the real estate firm, is due to increased foot traffic in malls since the beginning of the year. Will the U.S.' mall footprint, as well as retailers that rely on malls for consistent sales, see similar earnings as the economy fully opens up in 2021?
On this Marketscale TV interview, Voice of B2B Daniel Litwin talked with Brett Rose, CEO of United National Consumer Suppliers, an international wholesale distribution company for major multinational retailers. The duo spoke about factors giving malls a boost in 2021, consumer shopping experiences, and consumer trends that could signal a change for malls.
With a bright Q1 now behind it, Simon Property attributes its bullish outlook to a more confident consumer, as well as high sales volumes in March compared to 2019. Most newsworthy to the firm, its full-year outlook for operations funds went from $9.70 to $9.80 per share. While foot traffic certainly helped, Rose sees other factors at play.
Rose noted that consumerism, in general, is at an all-time high. While toilet paper made the headlines, consumers were buying up a lot of stuff, especially with new online models. The novelty of in-person shopping might be driving some traffic; will it be sustainable long term, or have consumers adjusted to home delivery and BOPIS?
"You can run any mall you want, but truth be told, nobody has ever experienced the landscape we're in right now," Rose said. "So, coming out of the pandemic, as far as the bullish predictions and numbers, they're spot on; people have been inside way too long."
Rose said the pandemic was the nail in the coffin for some big box stores that were teetering on the edge of bankruptcy, though many of these dynamics were already in play before COVID. He elaborated that malls won't take a dip anytime soon, but strategies around the traditional big box footprint or the anchor store will most likely change.
Follow us on social media for the latest updates in B2B!
Twitter – @MarketScale
Facebook – facebook.com/marketscale
LinkedIn – linkedin.com/company/marketscale
Latest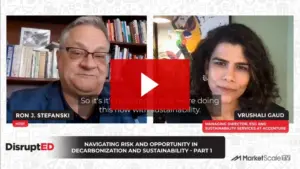 September 26, 2023
The global conversation has shifted dramatically towards decarbonization and sustainability in recent years. With the world experiencing unprecedented levels of disruption, from 5G technology to the challenges of a pandemic, the urgency to address climate change and its implications has never been more palpable. Although most business leaders see the vision of Sustainable Development […]
Read More