It's a Wrap – ComQi at NRF 2019
And It's A Wrap – ComQi At NRF 2019
Rarely have we seen the level of activity, engagement, open minds and weary feet as we did this year at NRF. It was really exciting. Where past years focused on ideas like Customer-Centric, Big Data, Omnichannel and IoT, 2019 was squarely in the bullseye of CX, Innovation and Measurement. If you think about it, it makes sense—everything is coming together, and it culminates in reinvention and ROI.
We're a technology company—we live and breathe retail technology and couldn't be more delighted to see this incredible wave of excitement towards store digital. We are, however, also people that cut our teeth building systems in real stores. Run by real people—busy, harried ones with more to do than they have time for.
Let's put this in perspective. Retail is hard, which is why what people saw at our booth was – high impact stuff for customers with high value for corporate. But in the eyes of associates, it's cool stuff to help them sell better without causing them time or grief
Let me share some context our some of our featured experiences…
UpLiftTM. With this, a screen is recessed in a wall behind a shelf holding product. When the shopper lifts an item, the screen comes to life like a 'living wall', morphing into something atmospheric or delightful—not the expected features and benefits. Why? Shoppers are deeply emotional creatures and they like to be immersed, not assaulted. When you give them a lovely moment, their minds are open to receiving more information, hopefully from a happy and helpful employee.
Tap-N-SnapTM Community Board. We looked at the chalkboard and pin board-based community boards in many stores and thought, "we can improve that." Community is about interaction as much as communication. So, we reimagined it. A shopper can open the Tap-N-Snap photo app and access a community board that feels more like Instagram, diving into scrolling fashion ideas and information. They can take selfies, add stickers/frames, add text and send it themselves as a text message to share or add to the store screen. It's a modern-day Elmo Was Here, enabling them to join in on the fun and stamp their presence with style, then make sure that everyone saw that your community = their community.
Casting Product Catalog was developed by our team to make it beautifully simple for a sales person to work one-on-one with a customer on a tablet, then flip it to large screens with a touch. Then, together, they can engage in deeper conversations about curated products with larger-than-life imagery, info, options and 'you might likes' and/or customer reviews. To us, it's about making sure that people can get access to the stuff they're used to having online, but in collaboration with the live assistance they came in for. The flip side is that the associate doesn't have to spend countless hours trying to research info and get trained on complex tech. Instead, what they need is instantly accessible. Everybody wins.
Then there's the Store Takeover. Few things make jaws drop or sets the mood for the store like a multi-screen, immersive synchronized digital moment. These moments can either be scheduled or easily triggered by a store associate and BOOM, it lights up like magic.
Finally, we'd be remiss to not shout out our evolved system for matching screen content to the audience, then reporting the Video Analytics in a dashboard. Although this is more for management, it still helps the folks on the floor. Shoppers are seeing messages and experiencing moments that they are more likely to be open to, thereby nurturing our ability to get them to tune in and take action. It also helps corporate understand what types of things are resonating and ringing up sales.
We think NRF delivered on true progress towards the Retailing 2020 we've been future forecasting for almost a decade now. ComQi walked away happy, but also hopeful that the industry looks at the opportunities before us from all angles—not just the cool factor ones. Maybe we gave you something new to consider; call us if you want to dive in a little deeper.
Latest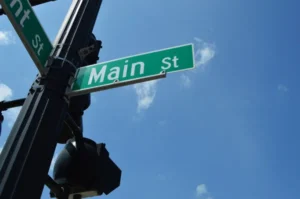 October 7, 2022
On Tuesday, September 13, 2022, the Dow dropped 3.94% after an August inflation report indicated a 0.1% month-over-month rise. Tech stocks bared a large brunt of the losses, with Meta dropping 9.4%
Read more