Key Takeaways From the June U.S. Retail Sales Data
US Retail sales jumped .6% in June over May and 18% over June of last year. Tune in below as Stacey Widlitz, president of SW Retail Advisors, breaks down the June U.S. retail numbers and what they mean for the American economy.
"I think what's most interesting is a lot of brands are saying that's OK, we're going to have a smaller revenue base and a higher margin."
Host: And I did want to start with sort of it's a strong number, but with what you're seeing inside the data, you've been doing this a long time. So in terms of trends you're seeing, this is very specific. And we know that there's a lot that will be different than it's ever been before. So what jumps out at you about the data?
Widlitz: So obviously, clothing and accessories booming back, right, pent up demand galore, you're still seeing sporting goods strong. But I think the biggest call-out in general is that what companies are doing right now is they're raising prices. Are they doing that? Two things. Inventory is exceptionally low, the lowest. I've seen it in 20 years of covering retail. And in addition, you know, we're in the sales season right now. No discounts out there. So this is the time for retailers and brands to start raising their prices. And by the way, they have to pass on all the costs.
Host: At what point does that affect consumer behavior because consumers incomes and wages aren't necessarily going higher?
Widlitz: Well, that's the trick. And for now, the consumer is just trying to get their hands on supply because there is actually a shortage of a lot of products out there because of all the supply chain logjams. So for now, consumers are willing to pay up. Right they've had a lot of savings over the past year, year and a half. So it works for now. But a year from now, two years from now, do they start getting price sensitive? And I would warn that for companies, once they raise prices, that tends to be very sticky. It's very hard to roll those back.
Host: We saw this sentiment data that, you know, might be a little worrisome just in terms of a trend, obviously in the mix here. And we're hearing it increasingly is of a concern about delta. The concern about the unvaccinated. How does that play in even for those that are vaccinated and that are kind of moving back to a more normal kind of life? Does it put any kind of chill at all in the broader economic outlook?
Widlitz: Well, I think it gives people pause, should they go out? Do they want to be an indoor malls, outdoor malls are back to almost their pre COVID traffic? Indoor malls are still down 20 percent, something like that. So it definitely weighs on the psyche of the consumer. But online is now almost half of the business for so many of these brands. And by the way, it's a higher margin proposition. So brands and retailers are they're actually able to make up the difference. And at a higher margin.
Host: But when we talk about the people going into physical stores, go into malls, go into strip malls, there have to be employees there to greet them and to service them. And we're talking so much on Bloomberg television these days about the labor shortage that is out there. Are retailers going to face more significant margin pressure and needing to raise wages for their employees?
Widlitz: I think they will. And that's what we've seen. If we usually see a race to the bottom, it's been a race to the top. So at the big retailers have been raising their prices and everybody's matching each other and moving up. So I think that continues. As you know, I was talking to a restaurant chain and they were saying COVID didn't get us, but the labor shortage might. That's pretty much what you're hearing out in the market.
Host: And so let's just line that up with what we're hearing from Central banks, which is, yes, we're seeing price increases, but don't worry, they're short term, they're short lived. But some of the stuff you're talking about here is fairly sticky, right? Once you raise a price or a wage, as Kayleigh said, you don't lower it very easily. So how much of that really runs I guess contrary to what the rhetoric that we're hearing from the banks? However much they might want it to be true, is the data actually showing it to be true?
Widlitz: So from what I've seen with history in retail, again, even when there's tariffs implemented and prices have crept up, as you said, those are sticky, wage increases are sticky. Their employees were given COVID bonuses. You can't take those back. So the cost structure is higher. But I think what's most interesting is a lot of brands are saying that's OK, we're going to have a smaller revenue base and a higher margin because we're going to pass on costs and raise prices for now, that's working. Talk to me in two years. I don't know if that's the consumer's going to feel OK with those kind of price increase.
*Bloomberg contributed to this content
—
Latest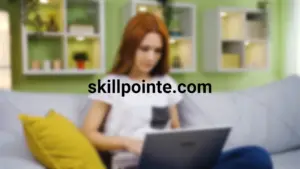 November 30, 2023
Adopting an entrepreneurial mindset is increasingly essential in today's diverse professional world. This approach, emphasizing resilience and innovation, is applicable in various careers, encouraging individuals to see opportunities in challenges and to think beyond conventional methods. SkillPointe recognizes the importance of aligning this entrepreneurial spirit with career aspirations. The organization assists individuals in transforming […]
Read More