Walmart and Target Turn to AI to Increase Efficiency
E-commerce has rippled through the retail industry from the legacy brands to family-owned businesses. Delivery times have never been quicker, and orders have never been easier to complete.
Efficiency is the name of the game in retail as it is across industries, and advancements in artificial intelligence is at the core of this boom.
While data and customizable shopping experiences began to take form with online giants like Amazon, brick-and-mortar legacy stores like Target have increased AI usage to succeed recently as well.
In its recent quarterly earnings report, Target smashed analyst expectations off the back of its ability to deliver products to customers within 24 hours.
Rival Walmart also saw a 2.8% bump in same-store sales in the second quarter using a similar AI-based approach to physical retail. The company automated shipment unloading, used robots to clean and restock shelves and increased self-checkout stations. All the while, Walmart collects data from these processes to further refine their shopping experience.
It is clear that the industry is taking note. According to a study conducted by Juniper Research, global spending on AI is set to reach $7.3 billion by 2022.
Tune in to Business Casual, MarketScale's live radio broadcast, every Wednesday and Friday at 8 a.m. CST.
Latest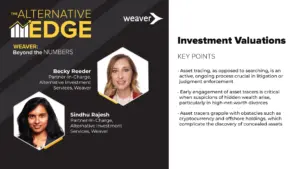 December 4, 2023
In this episode of The Alternative Edge, a Weaver: Beyond the Numbers Podcast, host Becky Reeder, an audit partner and co-leader of the alternative investments practice at Weaver, engages with Sindhu Rajesh, an Alternative Investment Services Partner with Weaver. They unpack the complexities of venture fund valuations, offering critical insights into industry dynamics and best […]
Read More