Position Imaging Announces Strategic Partnership With CDW and Mason Technologies Inc. For Smart Package Room Installations
STRATHAM, NH – Position Imaging, Inc, a pioneer in package logistics and advanced asset tracking, today announced a partnership with CDW and Mason Technologies Inc. to manage logistics and install its Smart Package Room throughout the United States. With the help of these best-of-class organizations, Position Imaging will be able to rapidly scale Smart Package Room deployments in multifamily properties, as well as in student housing and more.
Using Position Imaging's Smart Package Room, any courier can quickly assign packages to residents at the entry point kiosk, unlock the door, and place the package on a shelf. Once on the shelf, computer vision technology monitors each package while automatically generating a QR code notification to the resident via email or text. The resident scans the QR code at the room's secure entryway to open the door, where audio and lasers guide them to their package. If an incorrect item is taken from the shelf, an audio notification will alert the resident to their mistake.
Take a virtual tour of the Smart Package Room.
Position Imaging has already seen significant growth since starting this partnership in November. "In the past, we could do one installation per week," said Lucas Carvalho, Sr. VP of Operations at Position Imaging. "Now, we can do six to seven installations weekly, allowing us to rapidly scale the pace of Smart Package Room installations. This partnership has been a great success."
CDW, a leading multi-brand provider of information technology solutions, is excited to help Position Imaging with this undertaking. "Position Imaging is leveraging the power of technology to do great things for their customers," said Norm Lillis, Vice President of Small Business, CDW. "The Smart Package Room solution will deliver meaningful value, and CDW is committed to helping Position Imaging achieve and deliver on its mission."
Mason Technologies, Inc, a leading provider of turnkey solutions with full-service integration in smart building technologies and a partner of CDW, is eager to leverage this relationship and help Position Imaging scale its Smart Package Room customer base. "Position Imaging does not have the time to build every Smart Package Room organically," said Taylor Cook, Director of Partner Development, Mason Technologies Inc. "From a resource and talent perspective, we will enable the company to quickly hit new installation volumes."
Moving forward, Position Imaging will leverage this partnership to increase the rate of Smart Package Room installations across North America and the European Union. The strategic relationship represents a significant step in achieving the company's mission of making package delivery and pickup faster, more convenient, and more secure—across the globe.
About Position Imaging
Position Imaging is a technology company focused on innovations to improve the logistics industry. The company opened its research lab in Portsmouth, NH, in 2006 and has been quietly creating the world's most advanced, accurate, and novel tracking technologies. Its first product, Smart Package Room®, has been a success in the residential market and is now being adapted to retail through the iPickup® platform to improve PUDO, BOPIS, BORIS, and eCommerce fulfillment operations. www.Position-Imaging.com
Latest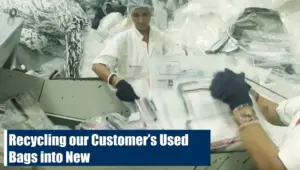 December 6, 2023
This video focuses on EcoLOK4, a groundbreaking product by CONTROLTEK that exemplifies innovation in sustainability. It highlights the process of transforming landfill waste into new deposit bags, with 90% of each bag's material being repurposed trash. This initiative not only reduces waste but also closes the sustainability loop, demonstrating CONTROLTEK's commitment to environmentally friendly […]
Read More